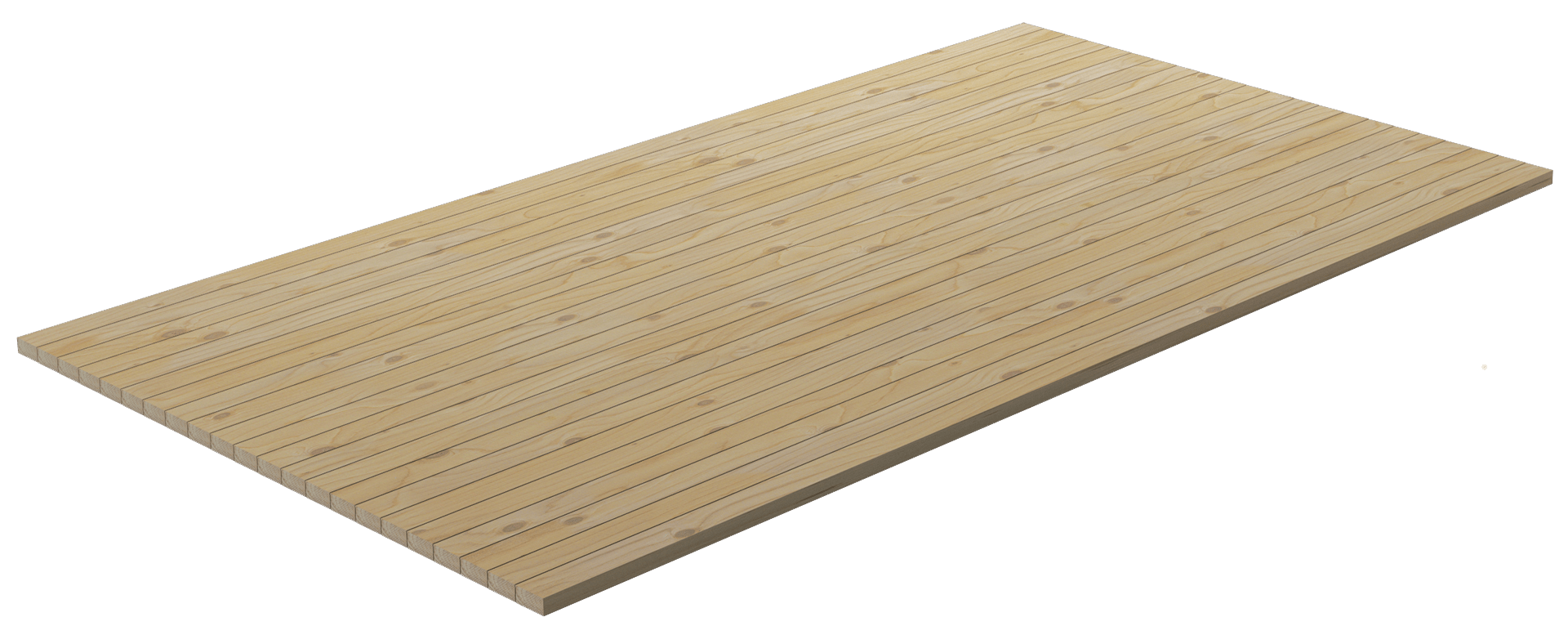 Solid wood boards
Solid wood boards are made with solid wood lamstock that are edge-glued along the wood grain and pressed together. The boards can be used in numerous ways: in the furniture industry, as tabletops, or as the middle layer in CLT (cross laminated timber).
Below you can find information about our system solutions and press lines for your solid wood board production.
"Kallesoe were the only plant suppliers who kept what they had promised. Set up, turn on, produce"
Christoph Ladenburger
Technical Manager
Ladenburger GmbH
"Kallesoe Machinery is state-of-the-art and absolutely market leader for this type of equipment, so we had to have these machines. They are the tomorrow's system for the production of glulam beams"
Roger Fränkel
CEO
Pfeifer Holz GmbH
"The Danes were really well prepared, and when it comes to machinery they are one of our most competent partners."
References in the solid wood board industry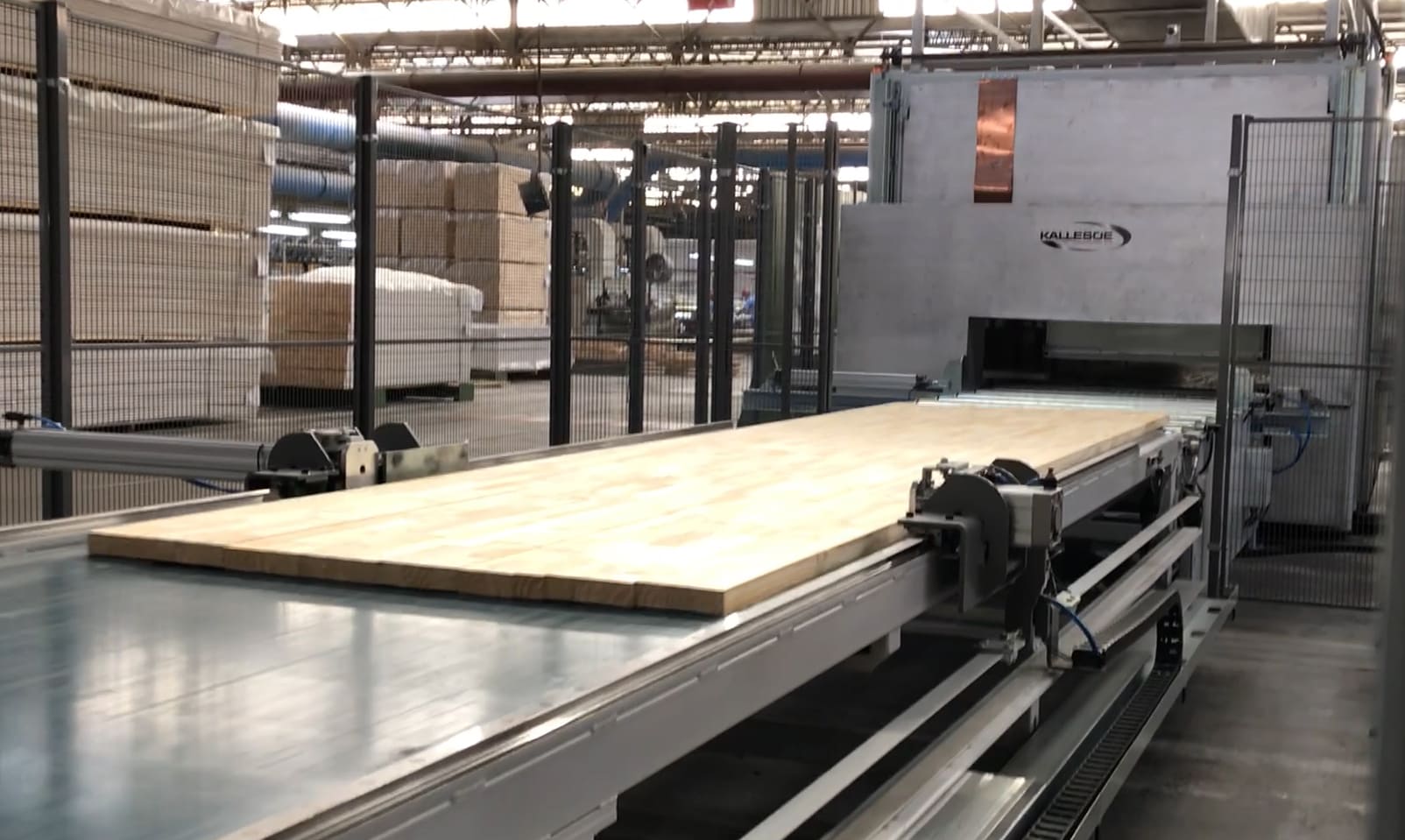 Versatile uses
About solid wood boards
Solid wood boards have many different uses. It is especially for different purposes in interior design that solid wood boards are particularly used. Solid wood boards are used as kitchen countertops, tabletops, and other surfaces where a beautiful look and great strength is needed.  The solid wood boards can also be used in the furniture industry for shelves and small tables. The boards are also used as sill plates for windows and as wood forms for pouring concrete. All in all, there are plenty of ways to use solid wood boards – especially if you want a strong board with the natural look of the wood.
Great production and handling
Production of solid wood boards
Solid wood boards are made by edge gluing and pressing wood lamellas along the wood grain. Thereby you achieve a very uniform board that can be used for many different purposes. A way to use a solid wood board is as a middle layer in CLT production. The advantage of using solid wood boards in CLT production is that it makes for an easier handling when laying the CLT element. It is easier to use solid wood boards as a layer in CLT production than loose lamellas. At the same time the solid wood boards adds strength to the cross lamination. We have several press lines or system solution that can be customized for your production needs.
Aesthetic and optimal use
Wood as a natural material
There are a lot of advantages when it comes to making products in wood. One of them has to do with the natural and beautiful look of the wood, which offers a calm aesthetic in the interior design.
Another advantage has to do with the way trees reduce carbon emissions. In its lifetime a tree absorbs carbon from the atmosphere to grow. It is also a renewable material. Because of these factors wood is considered a sustainable material that is increasingly in demand.
At Kallesoe Machinery we are interested in contributing to a sustainable development and that is why we have developed our CW press. The CW press uses the wane edge lamellas to make the solid wood board. The use of the wane edges paves the way for an optimal use of the raw material which also reduces waste in production. The primary purpose of the solid wood boards made with wane edge lamellas is to use them as a middle layer in CLT elements, but it also has other uses.
Quality products
Solid wood boards on Kallesoe Machinery's presses
If you make solid wood boards on Kallesoe Machinery's presses you get a quality product that is tailored to your production requirements. Our press lines and system solutions can make boards that are 4,7 meters in width. If it is needed, we can add a saw after the press that cuts the boards to the needed length.
The advantage of choosing our press line is that we can adapt it to your needs for capacity, speed, and just-in-time production. We have different presses for solid wood boards – both high frequency presses and hot presses – and we are here to guide you to the best solution for your production.
Whether you are interested in starting a new production or upgrading your current production, we are here to advise you about the product possibilities on our press lines.
We have more than 50 years of experience delivering press lines and system solutions across the world and we would like to encourage you to read some of our customer cases as inspiration.