New Management Team at Kallesoe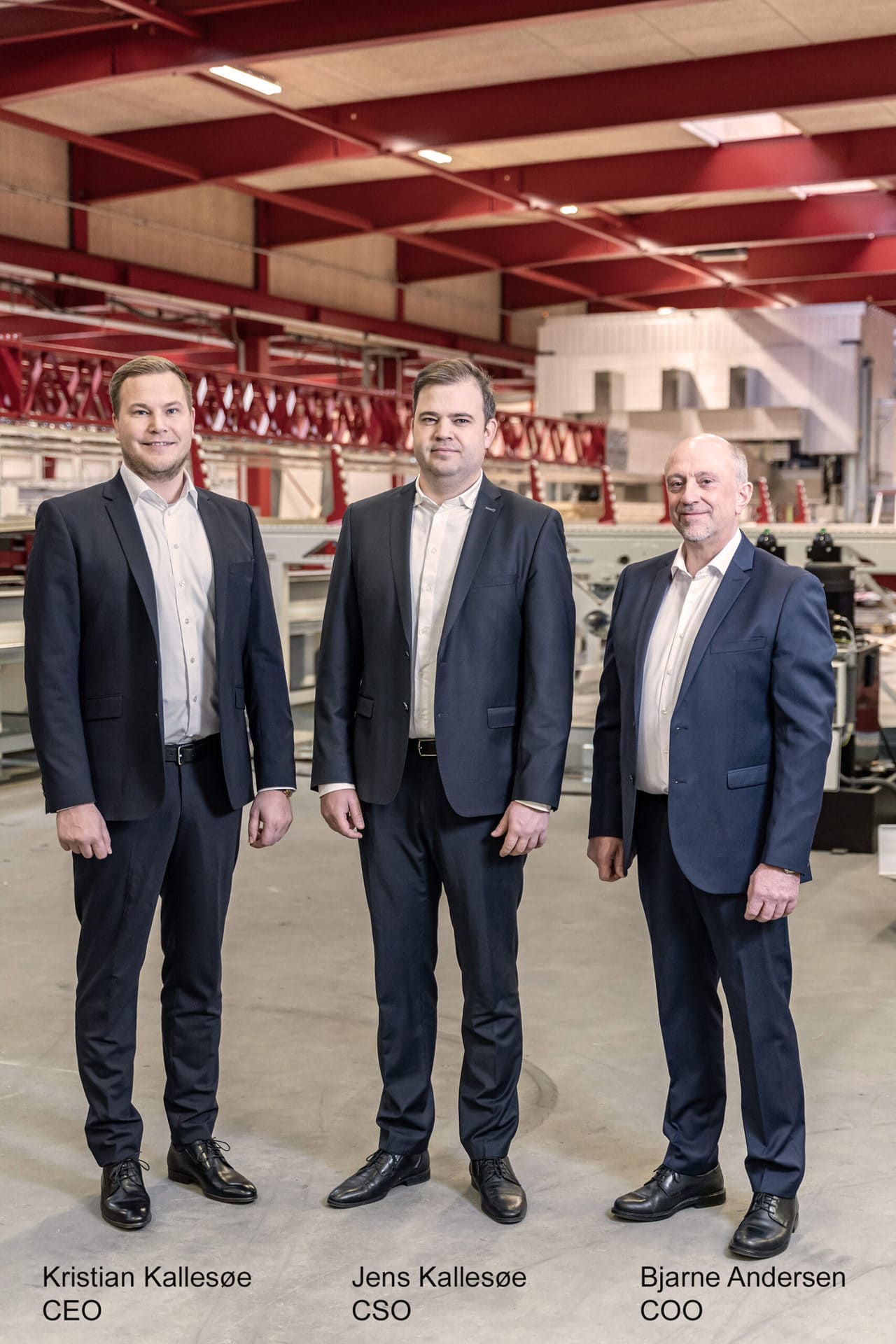 Kallesoe has chosen to strengthen its management team even further due to the immense growth of the company, and the new management consists of Kristian Kallesøe and Bjarne Andersen.
Kristian Kallesøe was appointed as CEO of Kallesoe on January 1, 2022, while Bjarne Andersen stepped into the role as COO.
Kristian Kallesøe and Bjarne Andersen each possess the leadership abilities, competencies, and experience to ensure the continued, fast development of Kallesoe.
CEO With a Vast Knowledge of the Industry
Kristian Kallesøe has been employed at Kallesoe since 2007. Kristian has also had the role of COO from 2010 till 2018, and he was on the Board of Directors from 2018 to 2021 as well. He also worked as Sales Manager in this period, where he had a sharp focus on sales of large, customized solutions. It's safe to say that Kristian has a vast knowledge of the industry, and a great amount of insight into the inner workings of the company.
"It's very important to me, that Kallesoe Machinery continues its growth, innovation and evolvement, and I will do my very best to keep us on the current track. Kallesoe offers something so unique, and that's especially due to our highly skilled and committed employees. I'm sure the future holds even more excitement for us, and I look forward to solving the tasks at hand with the rest of Kallesoe," says Kristian Kallesøe.
Dedicated COO
Bjarne Andersen has been CEO for the past four years, in which he has planned and successfully executed the company's goals for growth. He has paved the way for the further expansion and evolvement of Kallesoe. Bjarne was on the Board of Directors from 2010-2018 before his time as CEO. He will continue his great contributions to the company, and he is looking forward to dedicating more of his time on process optimization alongside Kallesoe's competent employees.
New CSO in Sales Management
Kallesoe's sales department will be strengthened by former Sales Manager Jens Kallesøe stepping into the role of CSO, responsible for Sales and Marketing. Jens has been a part of the company since the summer of 2018, and he is also one of the shareholders. Bruno Kallesoe the former CSO will remain on the Board of Directors, shareholder and now with the title of Senior Advisor as well.
Immense Growth of Kallesoe Machinery
A lot has happened at Kallesoe the last couple of years, and the positive evolvement just continues. The HOMAG Group becoming majority shareholders back in April 2021, has solidified Kallesoe as a force to be reckoned with, and the future looks very promising.