Combi press line for glulam and CLT production
This effective radio frequency production line with a special lay-up system has the option to manufacture two different kinds of products in the same system; glulam beams and CLT elements. You'll get an increased capacity and flexibility without needing extra space.
The press uses radio frequency technology to cure the glue, which has the great advantage of short press cycles and thereby an increased capacity – the ideal line for a just-in-time production. Read more about the radio frequency technology and the advantages of radio frequency here.
We design every production line to fit our customers' products and production needs.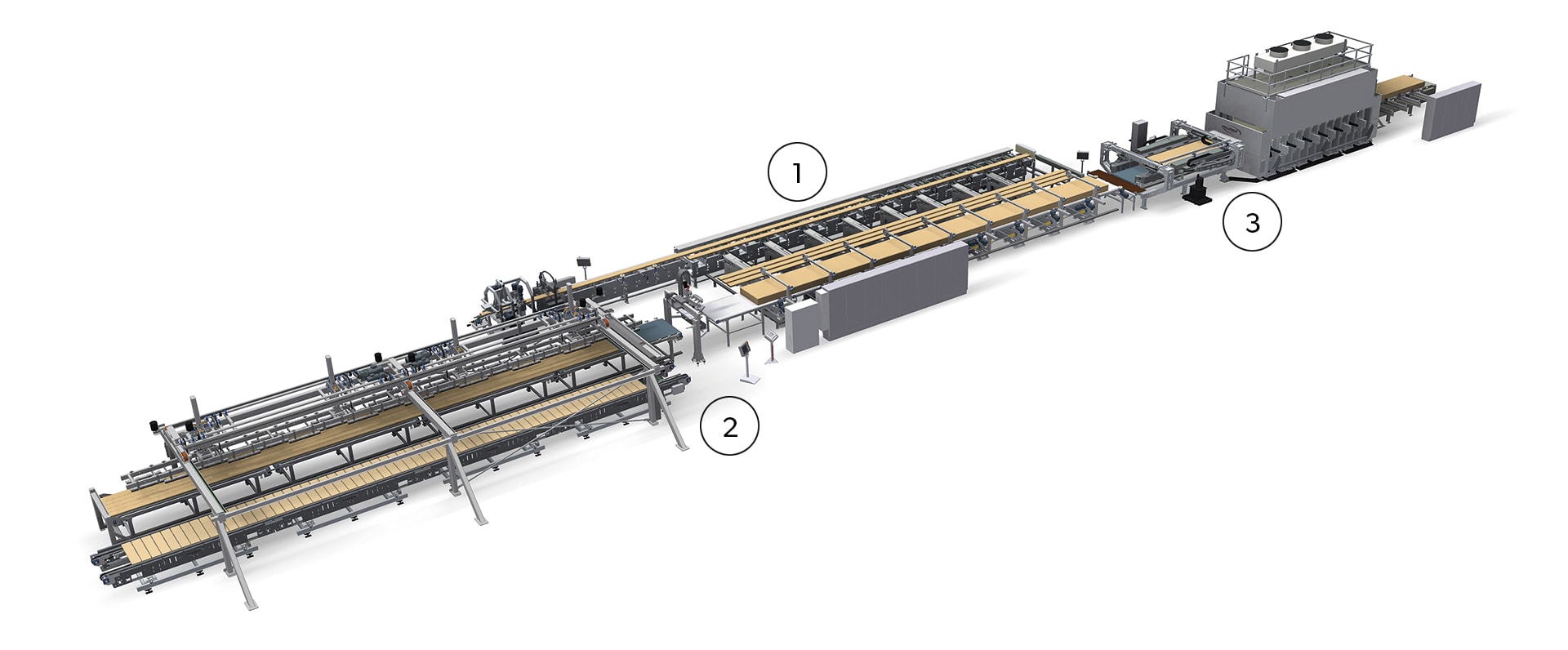 1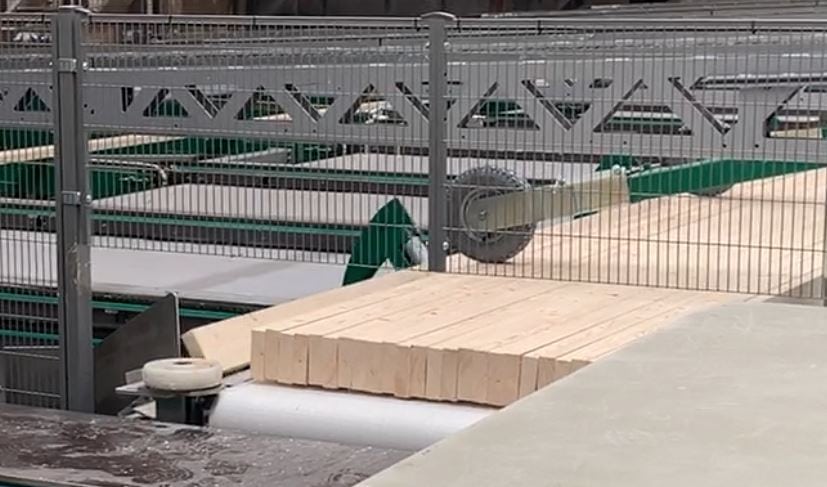 Glulam beams
In the production of glulam beams a layer of glue is applied from above with a face gluing unit. The glued pieces of lamstock are cross conveyed one by one, turned 90º, joined and fixated in a charge.
Following this, the charge is loaded onto a belt conveyor which feeds it into the press.
2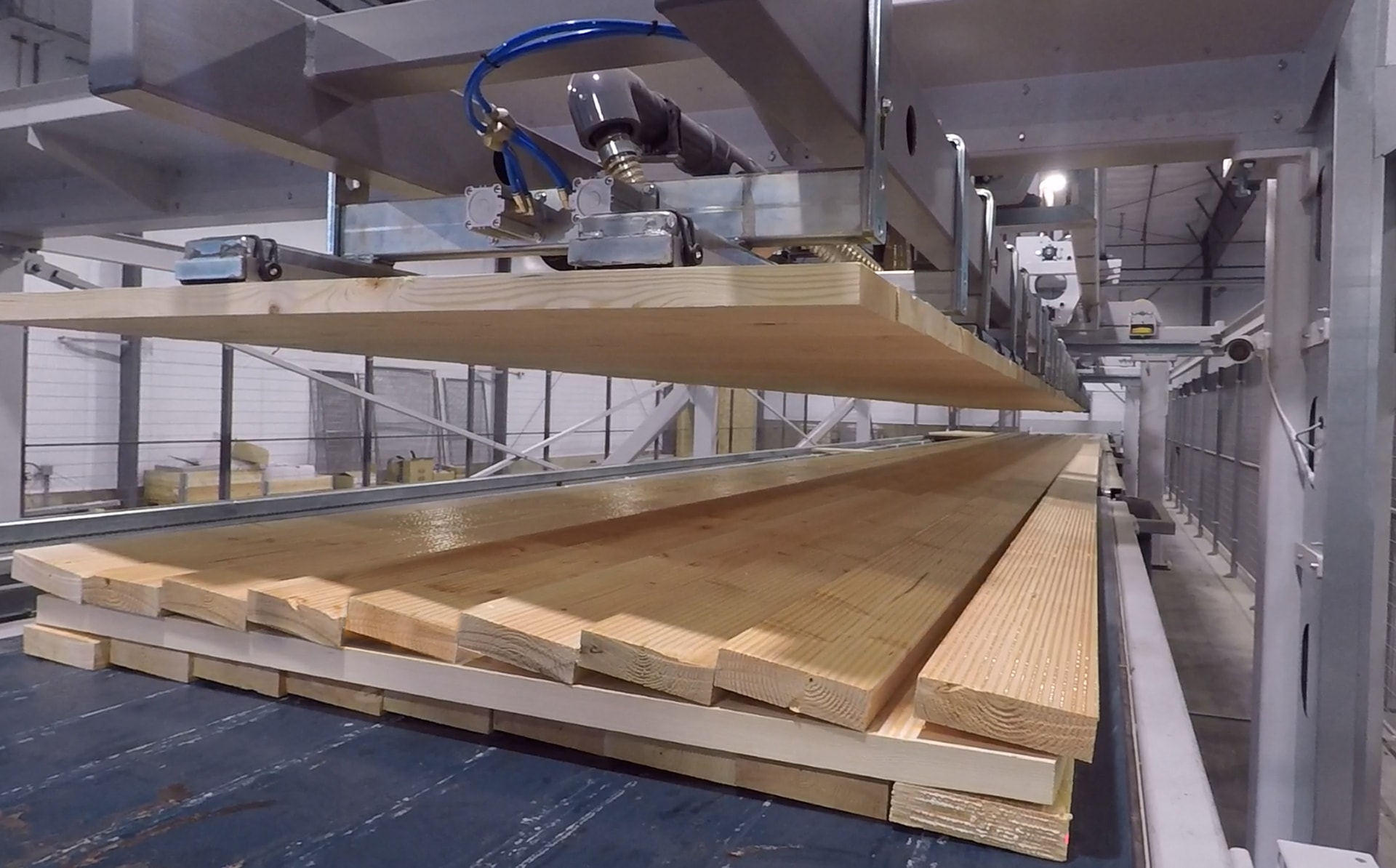 CLT
When manufacturing CLT elements, glue can be applied to the edge of the longitudinal lamstock. The lamstock are cross conveyed to a temporary collection unit, where they are joined together and lifted onto a belt conveyor for adding more layers.
The charge is reversed under the vacuum gantry where the cross lamstock are positioned. Glue is applied between each layer.
The CLT element can be completed with a second layer of longitudinal lamstock, or the process can be repeated until the desired number of layers has been reached.
3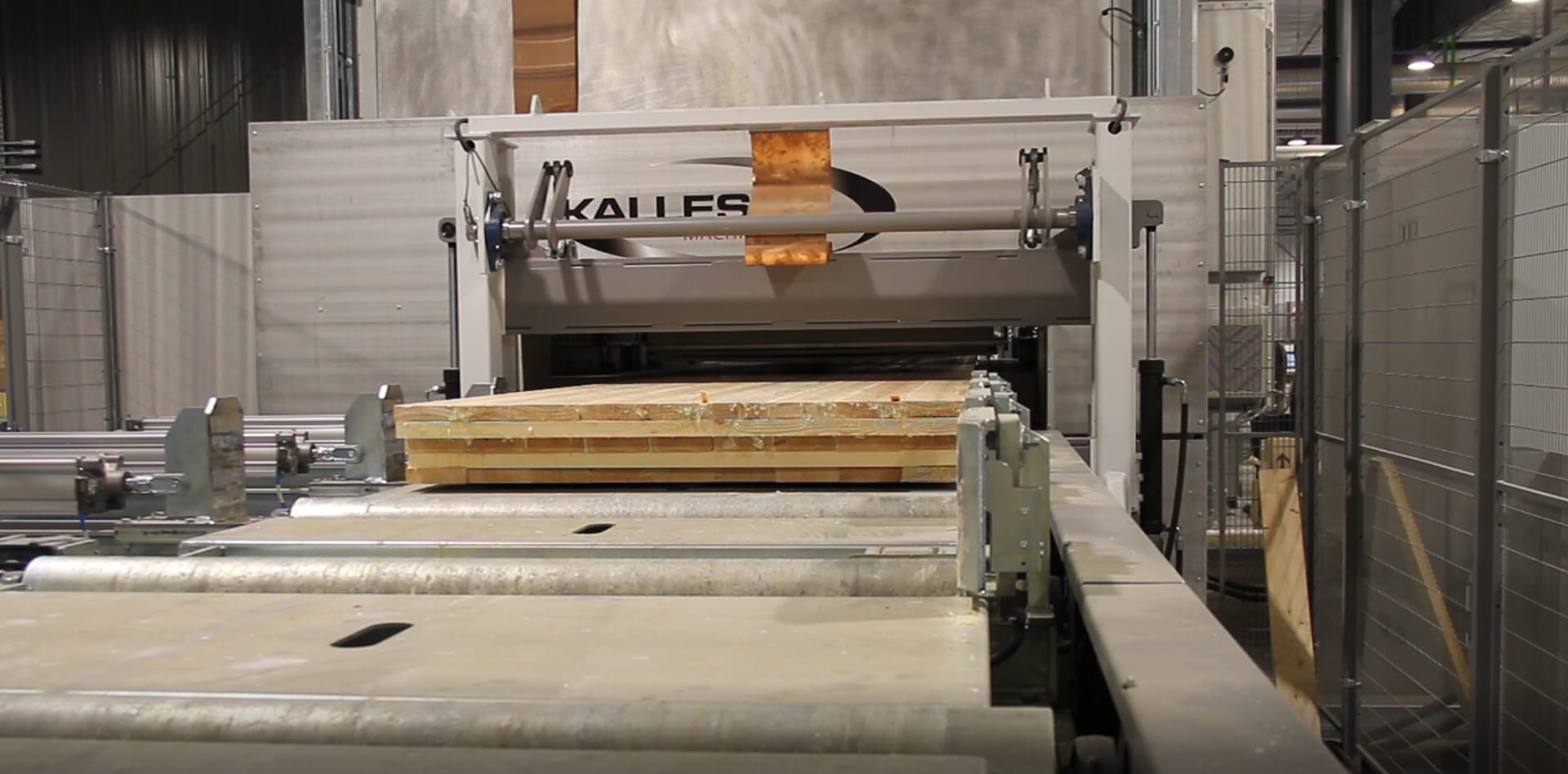 Glulam and CLT
The completed product charge is fed into the radio frequency press where it is pressed from the side and the top and the radio frequency energy is added for a rapid curing.
Read more about the radio frequency technology.
The illustrated Combi press line handles up to 27-meter-long elements – but the machinery can be designed and adapted to your production needs and requests.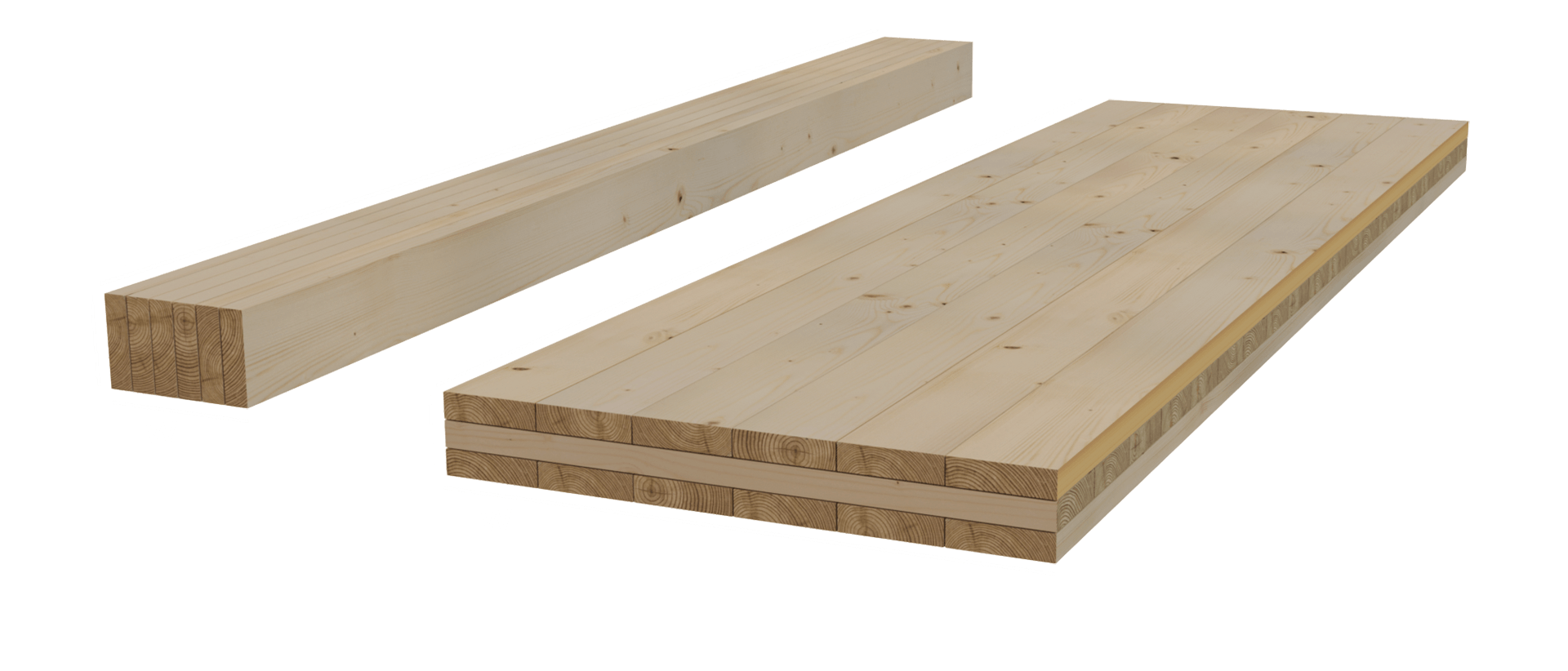 Specifications
The minimum and maximum length, width and height of the CLT elements and glulam beams are listed below – but we can make a press line that specifically fits your products and production needs.
Glulam
Length: 3,000 – 27,000 mm (9 ft 10 in – 88 ft 6 in)
Width: 1,250 mm (4 ft 1 in)
Height: 60 – 290 mm (2.4 – 12 in)
CLT
Length: 6,000 – 27,000 mm (19 ft 8 in – 88 ft 6 in)
Width: 1,150 – 1,250 mm (3 ft 9 in – 4 ft 1 in)
Height: 60 – 290 mm (2.4 – 12 in)
"Kallesoe took the necessary time and adapted the machines to our individual needs."
Russ Vaagen
CEO
Vaagen Timbers
"The line runs as it should – smoothly. The performance lives up to what was promised. We would buy the same machine all over again."
Dietmar Seelos
Technical Director
Pfeifer Holz GmbH
"The Danes were really well prepared, and when it comes to machinery they are one of our most competent partners."
"We again opted for solutions by Kallesoe because of the high flexibility"
Reinhold Holzer
Production Manager
Hasslacher Norica Timber
Contact
We are ready to help you find the right press solution
References in the glulam industry