Duo XL press line for production of beams and solid wood boards
This Duo XL press line gives you a unique opportunity to produce long glulam beams and solid wood boards in the same press line.
The Duo XL press line is developed with a double glue system that can be added to the top and the side of the lamstock – which means that it can produce two products: beams and boards.
This allows for a wider range of products and an increased capacity without needing extra space.
The press uses radio frequency energy which means that the glue cures quickly, making the press cycle shorter as well while increasing the capacity.
Read more about the advantages of using radio frequency technology here.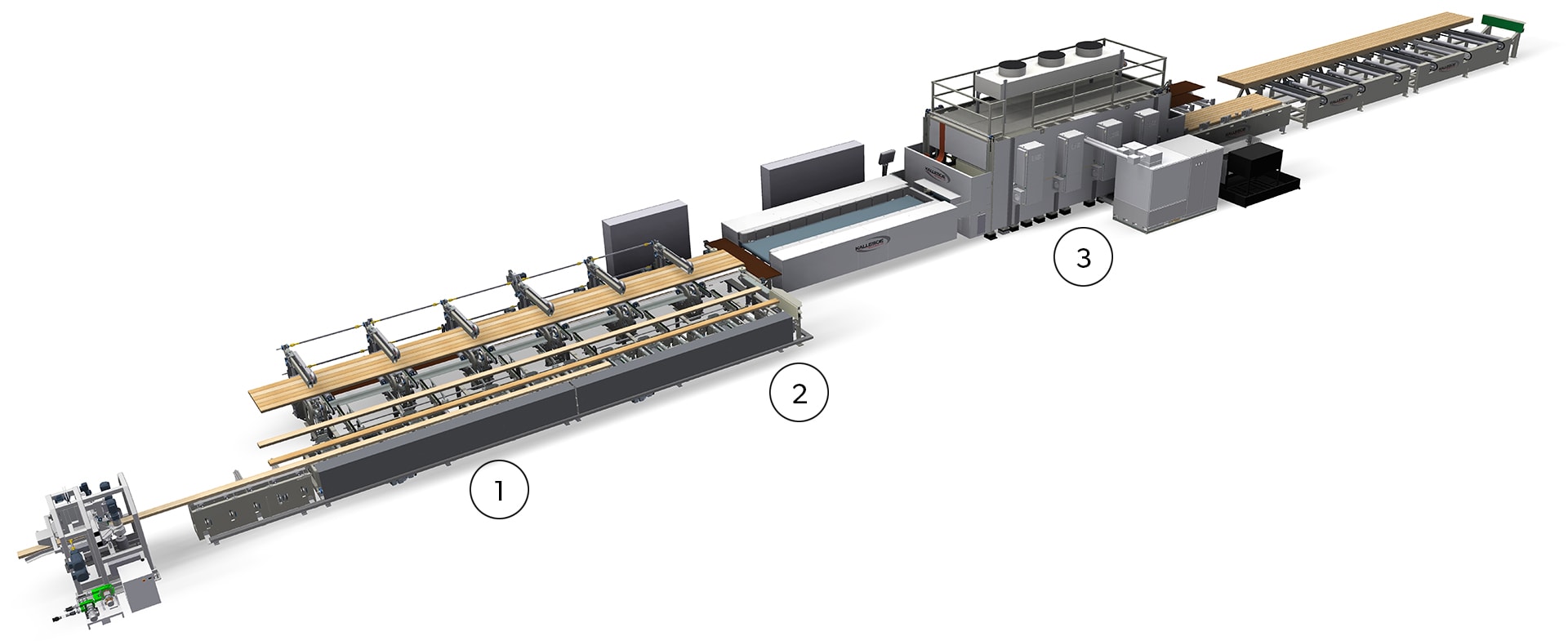 1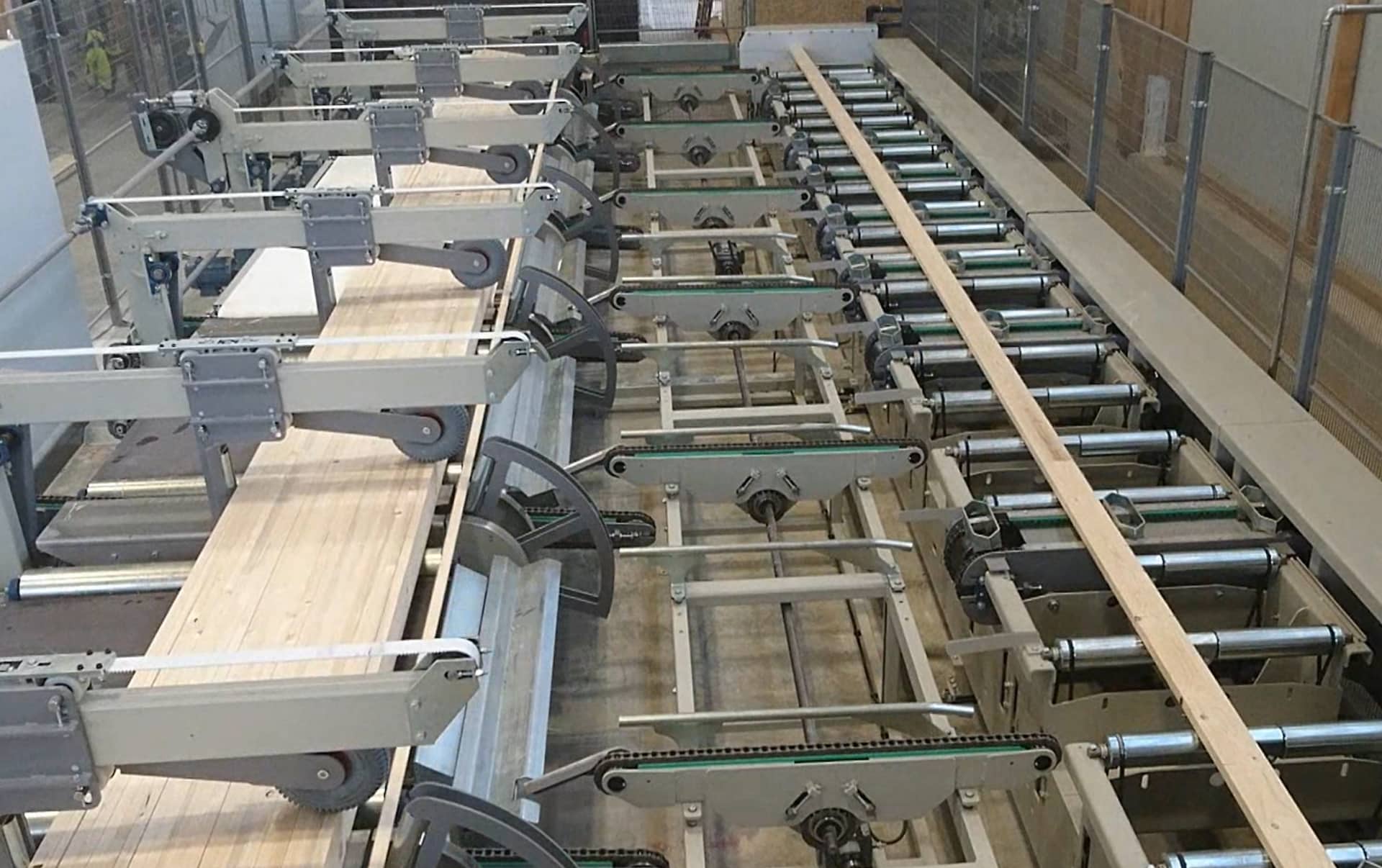 Glulam production
The glue is added to the lamstock. The lamstock is then transported on a roller conveyor to the lay-up system.
The glued lamstock is then stood up and gathered on a conveyor belt where they efficiently are kept in place while more lamstock are added.
2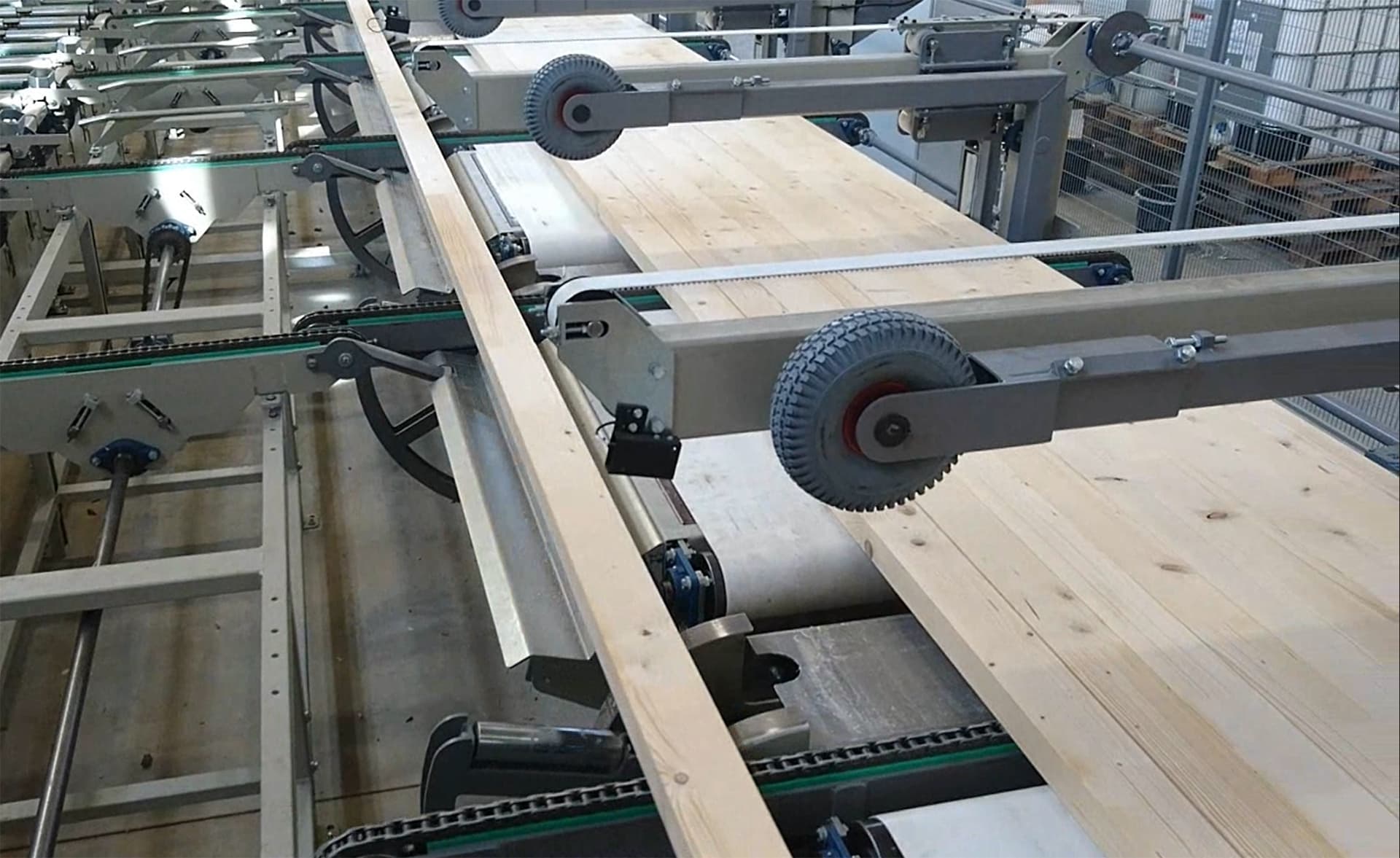 Solid wood board production
In the board production the glue is added to the edge of the lamstock by a glue roller.
The lamstock runs on a conveyor to the cross handler, that leads the lamstock to the inlet table. On the inlet table the lamstock are gathered and kept together until the batch is ready to go into the press.
3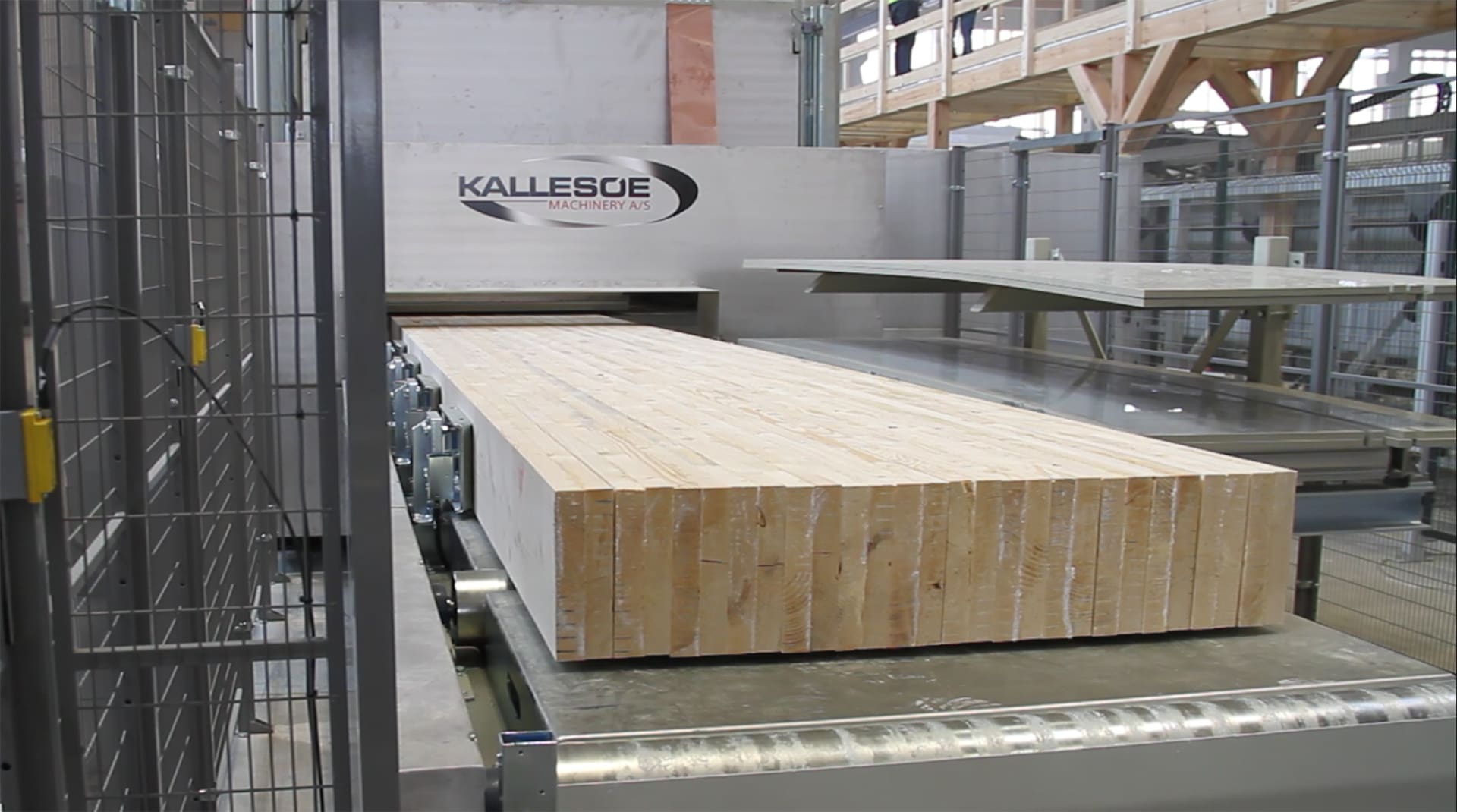 The press 
The batch is led into the press. The press uses side and top pressure to make sure that the boards and the beams are uniform and of high quality.
The radio frequency technology makes the glue cures quickly and efficiently.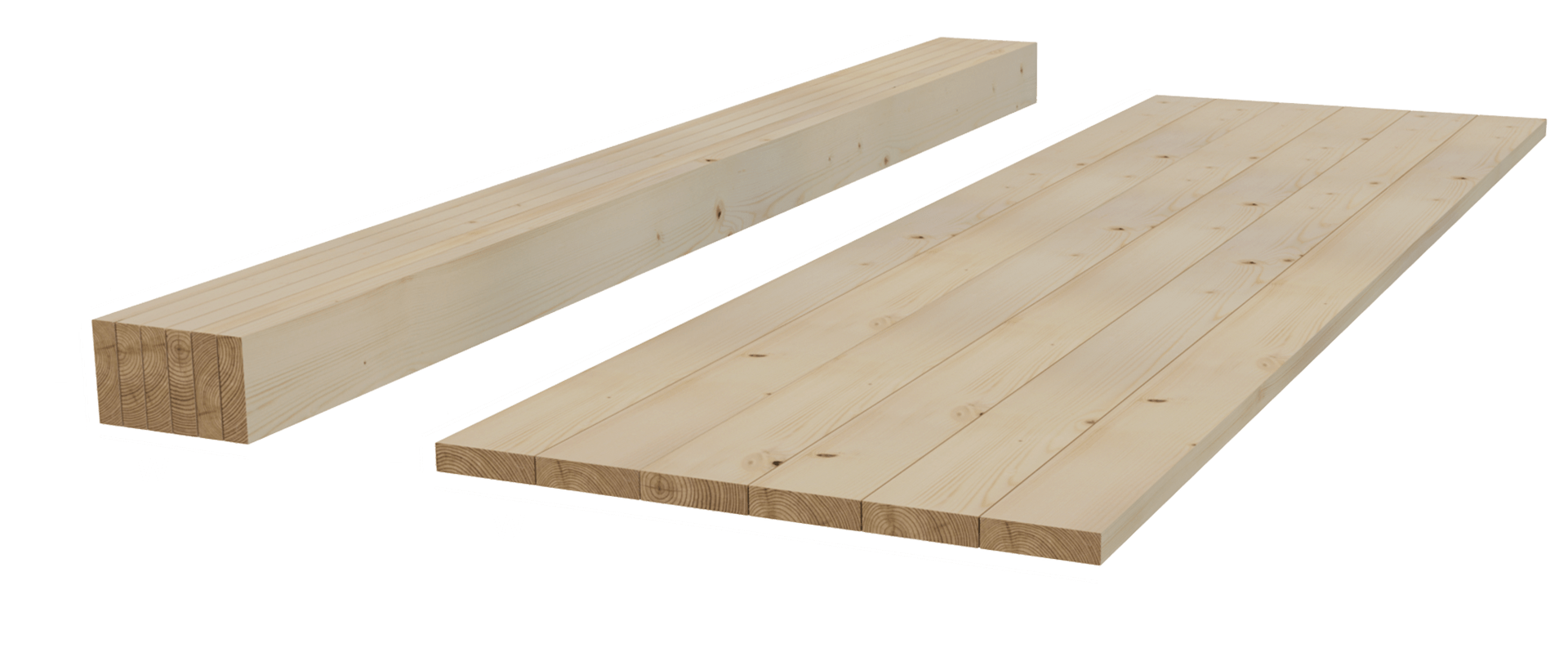 Specifications
Minimum and maximum length, width and height are listed below – but we can make a press line that specifically fits your products and production needs.
Glulam beam
Length: 3,000 – 27,000 mm (9 ft 10 in – 88 ft 7 in)
Width: 840 – 1,280 mm (2 ft 9 in – 4 ft 2 in)
Height: 60 – 290 mm (2.4 – 11 in)
Solid wood board
Length: 6,000 – 27,000 mm (19 ft 8 in – 88 ft 7 in)
Width: 840 – 1,280 mm (2 ft 9 in – 4 ft 2 in)
Height: 30 – 150 mm (1,2 – 6 in)
"Kallesoe were the only plant suppliers who kept what they had promised. Set up, turn on, produce"
Christoph Ladenburger
Technical Manager
Ladenburger GmbH
"The line runs as it should – smoothly. The performance lives up to what was promised. We would buy the same machine all over again."
Dietmar Seelos
Technical Director
Pfeifer Holz GmbH
"The technology was very impressive. We are convinced that it is much better than other technologies on the market. It is all about flexibility and  speed."
Silver Simenson
Production Manager
Palmako
References in the glulam industry