LKS press line for scantlings, posts, and beams
The LKS section press is a particularly thoroughly tested and efficient piece of production equipment with a high capacity and low energy consumption.
The press scan be individually adapted and designed to fit your production needs and wishes.
With this facility you will have a production line that is ideal to produce laminated furniture wood and window components.
The section press can handle all types of hard wood and soft wood.
See our system solutions for scantlings, posts, and beam production

1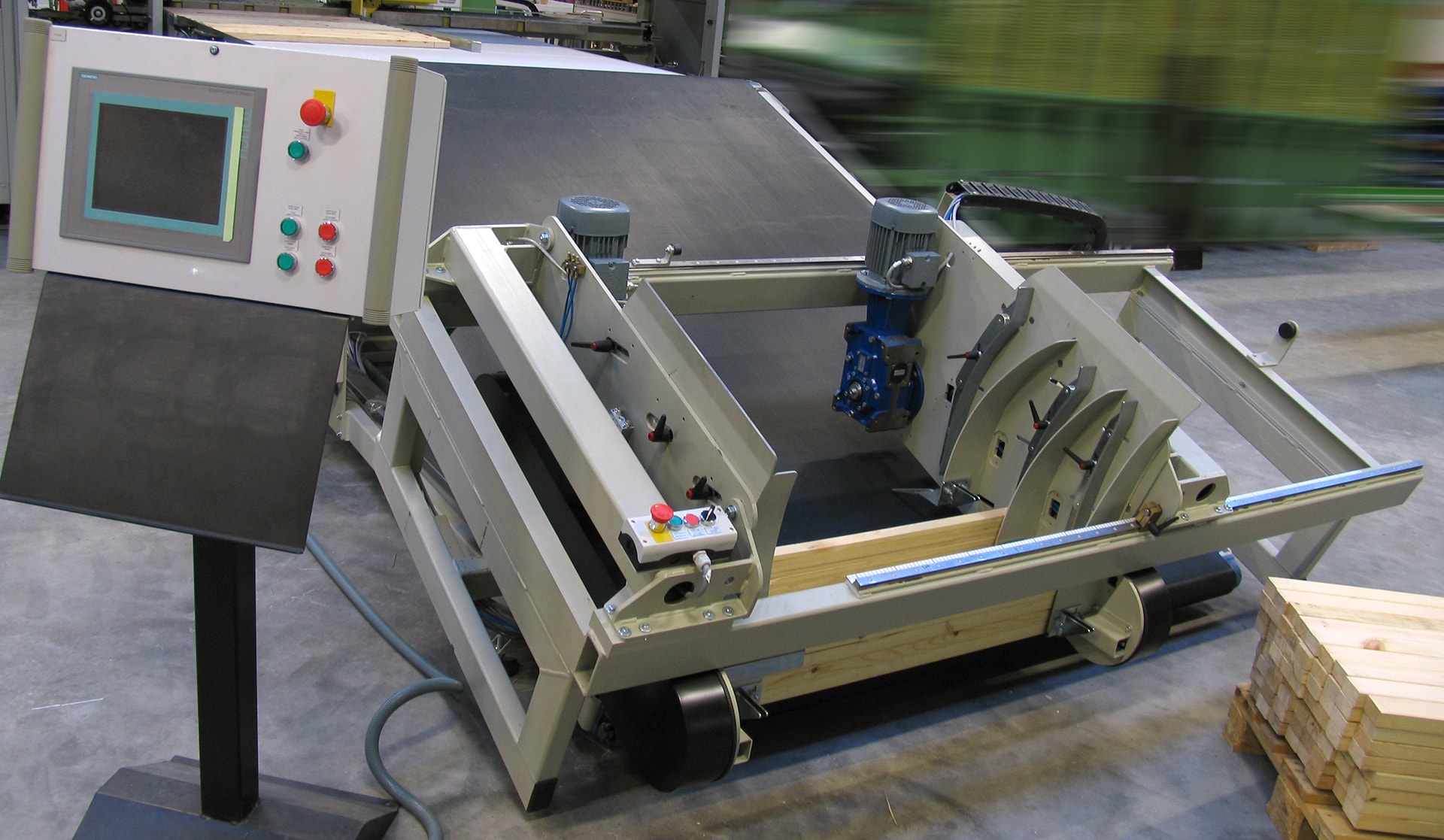 You can choose between an automatic lamella feeding system or a solution with a magazine that is automatically filled with up to three different qualities of lamstock.
The facility subsequently makes sure to place the lamstock in the correct order in relation to the specific task.
2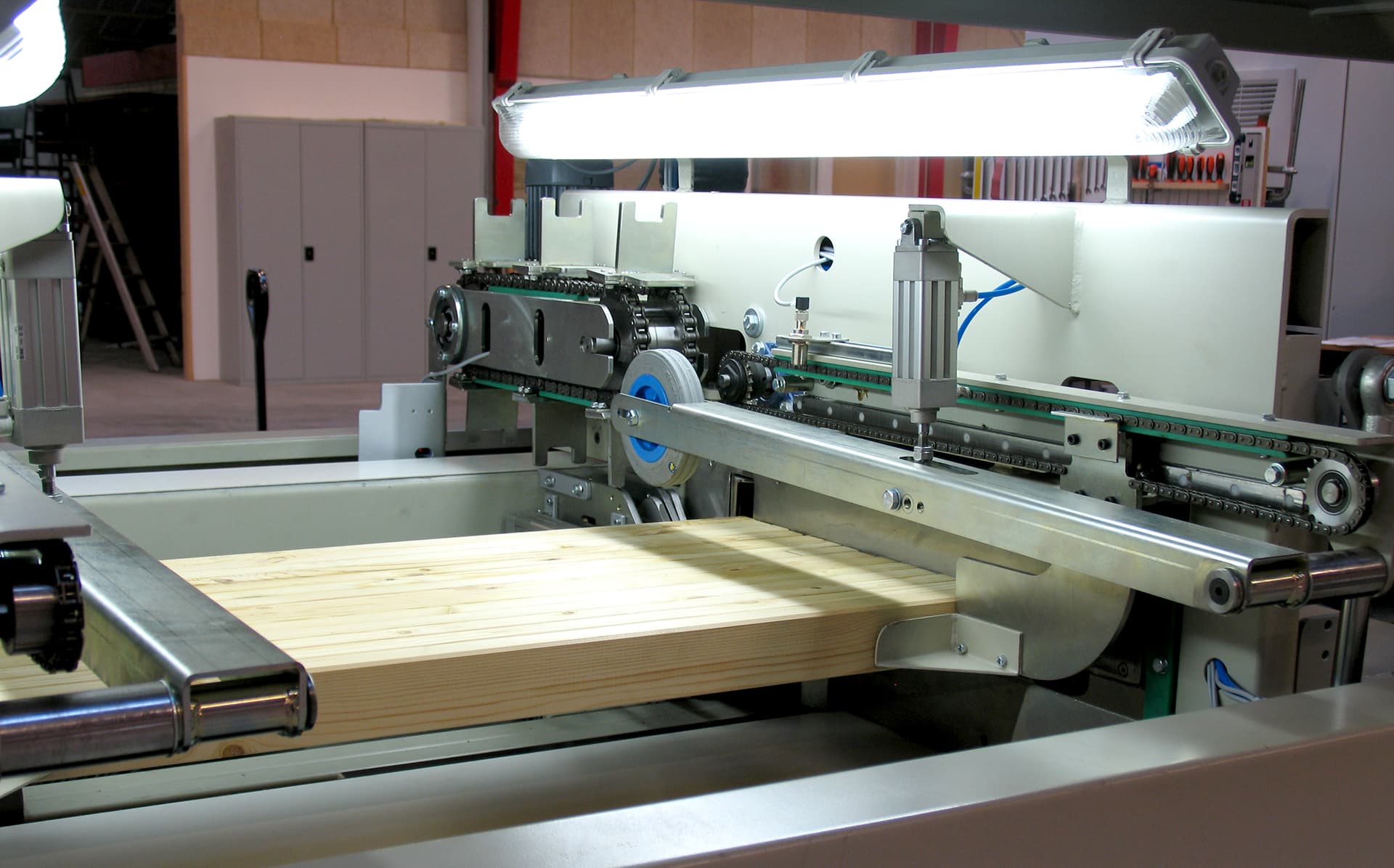 Kallesoe Machinery's sophisticated system ensures a swift and reliable glue application and lay-up of the lamstock.
In this system, the glue is applied with a glue nozzle. Sensors ensure a reliable and even glue application.
After the glue application, the lamstock are led on and cross conveyed. During the cross conveying they are set up, joined and straightened before being taken to the section press.
3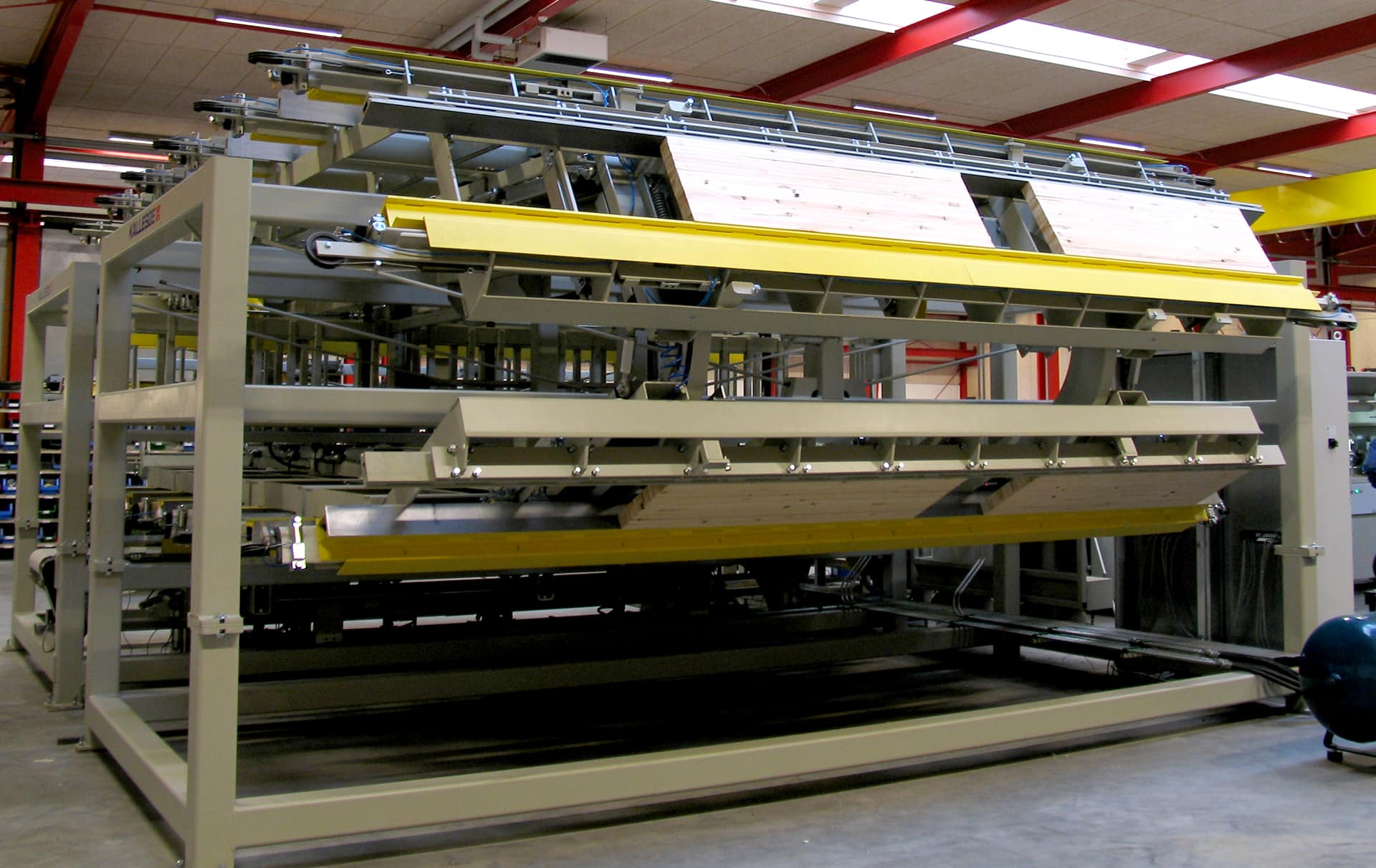 The press is sturdily and strongly built from thoroughly tested components.
The pressing sections are mechanically connected to each other so they can be pulled around in the guide rails. The movement of the sections happens by use of hydraulic power.
The laminated work pieces are cured while moving along the guide rails; the required laminating pressure is constant during this sequence.

Specifications
The minimum and maximum length, width and height are listed below – but we can make a press line that specifically fits your products and production needs.
Length: 400 – 6,300 mm (1 ft 4 in – 20 ft 8 in)
Width: 400 – 520 mm (1 ft 4 in – 1 ft 8 in)*
Heigth: 35 – 150 mm (1,4 – 5,9 in)
*520 mm (1 ft 8 in) is the accumulated pressing width.
"The collaboration with Kallesoe was really good. The machinery is performing to our full satisfaction."
Philipp Trautner
Project Manager
Holzindustrie Schweighofer
"The changeover possibilities of the press were crucial to us since we deliver to markets that demand different dimensions of the products." 
Linda Grinberga
CEO
Latvāņi
"The technology was very impressive. We are convinced that it is much better than other technologies on the market. It is all about flexibility and  speed."
Silver Simenson
Production Manager
Palmako
Contact
We are ready to help you find the right press solution
Jens Therkildsen
Sales Manager
References in the scantling, post, and beam industry