W press line for scantlings, posts, and beam production
This radio frequency plant from Kallesoe Machinery is a particularly efficient production line with high capacity and very short pressing times.
The press can be adapted individually to your production needs and wishes.
The press uses radio frequency technology which means that the glue cures rapidly, whereby the press cycles are decreased and the capacity is increased.
Read more about the radio frequency technology and the advantages with using radio frequency.
Ses our system solutions for scantlings, posts, and beam production

1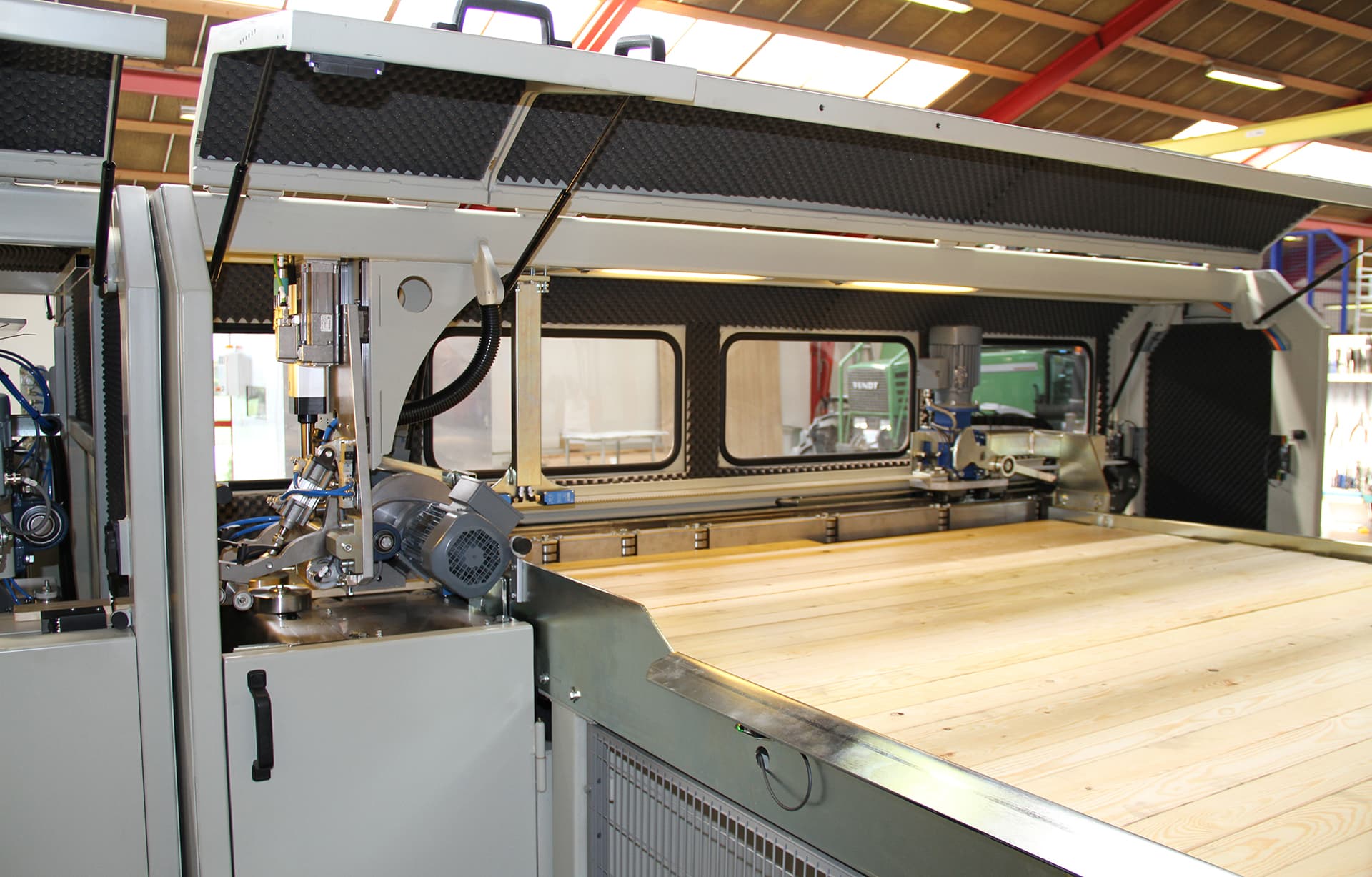 The lamstock is fed from whatever is in front of the glue applicator – be it a sorter, a milling machine or a destacker.
The glue application is done as follows: A push-in device pushes each piece of lamstock into the glue applicator, where several rollers pull and guide the lamellas under the glue nozzle (when using two-component glue a hardener nozzle can be added).
With different lamella dimensions in the same lay-up, the glue nozzle is lifted and lowered automatically.
If there are different lamstock dimensions in the same lay-up, the nozzle will adjust itself automatically.
The glue applicator is optimized for Kallesoe Machinery's glue pump system that ensures a correct glue application on the entire length of the lamstock.
2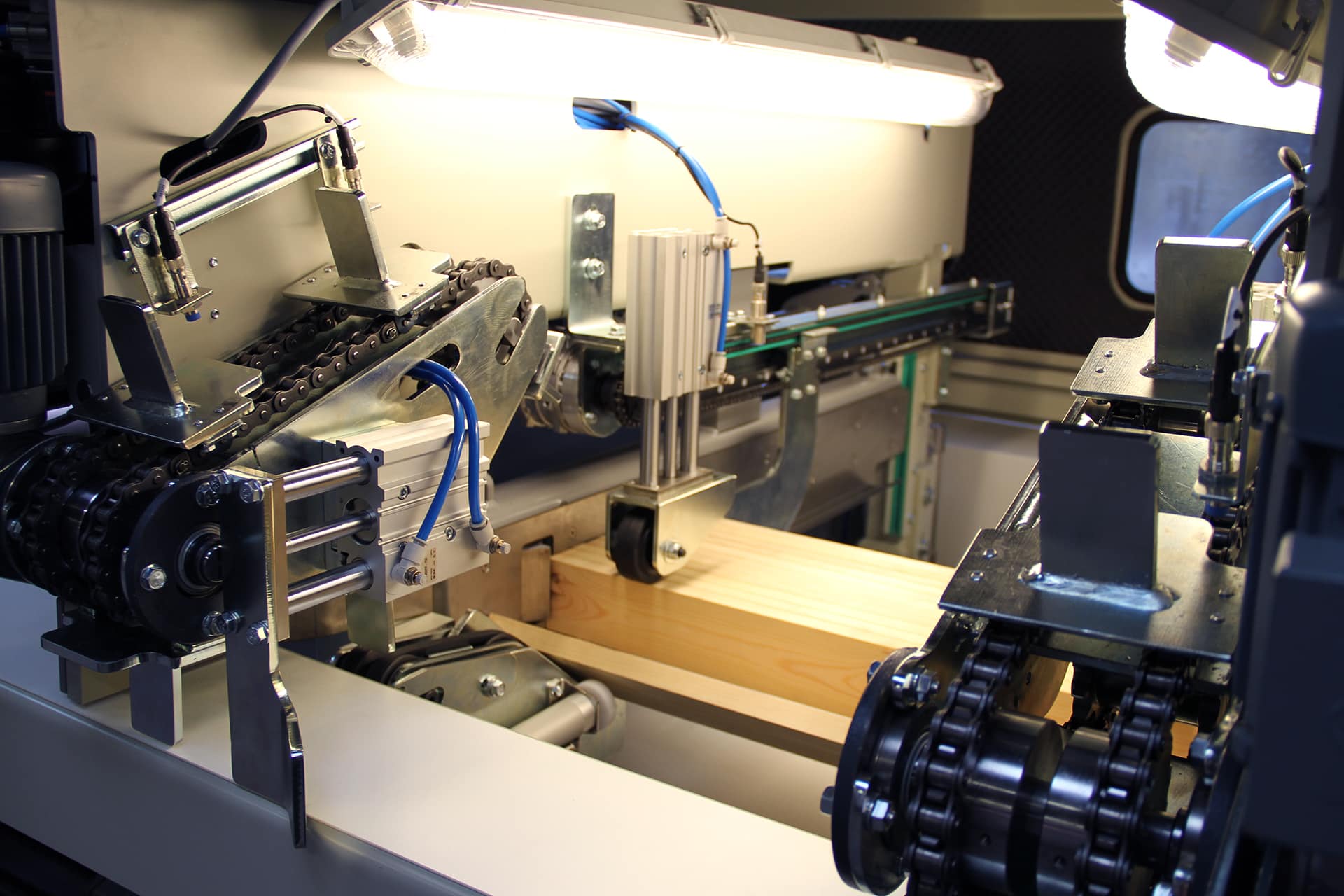 After the glue is applied, the lamstock is cross led by means of V-belt conveyors into a device where they are stood on their edge – and further on into a magazine where they are gathered. The V-belt conveyors ensure a smooth and constant cross conveying.
When the magazine is filled the joint lamstock are lowered onto the feeding table beneath and straightened.
Simultaneously the application of glue onto the next row of lamstock is initiated. This makes for a fast production process and/or a briefer conversion time.
When the feeding table is filled the entire layup enters in the press.
3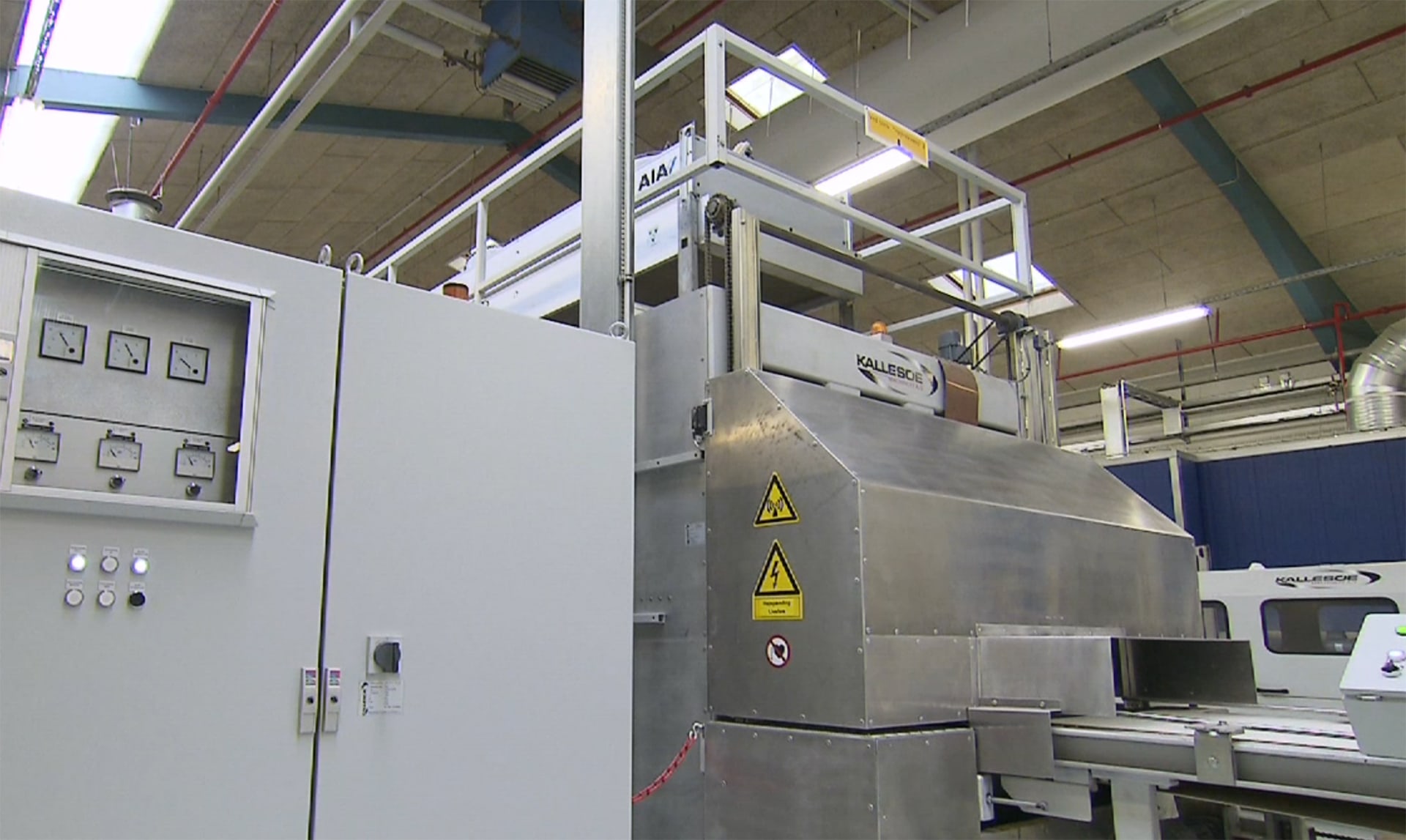 The radio frequency press is solidly and robustly built, and the hydraulic system is powerfully dimensioned with a 2-step pump station and a control mechanism that makes the press cycle run at maximum speed. The pressure is regulated automatically in accordance with the dimensions of the object on the press.
The plant is fully and safely shielded to avoid electrical disturbance of the surroundings. Read more here.
The press is equipped with a high-performance and reliable radio frequency generator ensuring very short pressing times.
We can deliver different changeable profile plates for the top plane, to make it possible to press L-shaped profiles for different frames.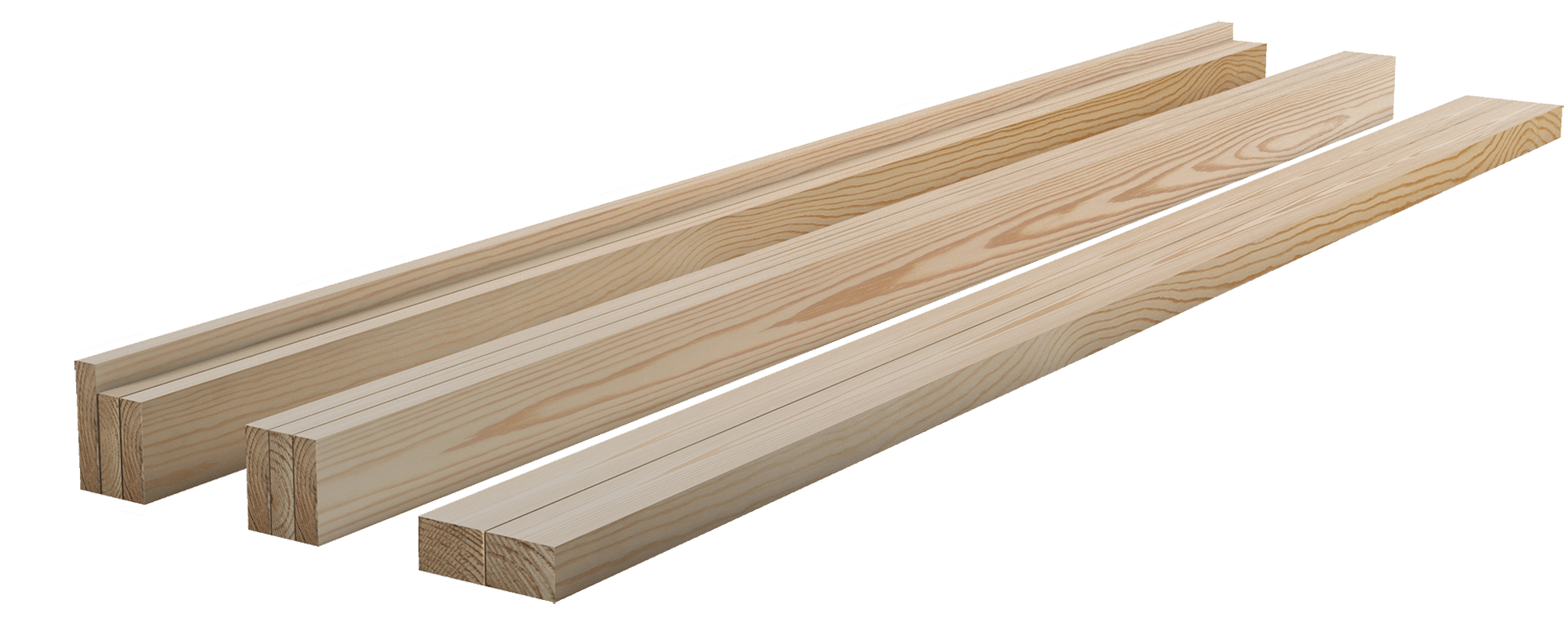 Specifications
The minimum and maximum length, width, and height on the laminated products are listed below – but we can make a press line that specifically fits your products and production needs.
Length: (400)600 – (3,000)6,100 mm/ (1 ft 3 in) 1 ft 11 in – (9 ft 10 in) 20 ft
Width: 800 – 1,280* mm / 2 ft 7 in – 4 ft 2 in
Height: 40 – 150 mm / 1,5 in – 5,9 in
* 1,280 mm / 4 ft 2 in is the accumulated pressing width
"The collaboration with Kallesoe was really good. The machinery is performing to our full satisfaction."
Philipp Trautner
Project Manager
Holzindustrie Schweighofer
"The changeover possibilities of the press were crucial to us since we deliver to markets that demand different dimensions of the products." 
Linda Grinberga
CEO
Latvāņi
"The Danes were really well prepared, and when it comes to machinery they are one of our most competent partners."
Contact
We are ready to help you find the right solution for your production
Bruno Kallesøe
Senior Advisor
References in the scantling, post, and beam industry