B press line for board production
This radio frequency board press is specially designed for the production of long and thick boards of radio quality. The lamstock is safely held in place throughout the entire glue application and lay-up process.
The press uses radio frequency which ensures that the products have a high quality.

1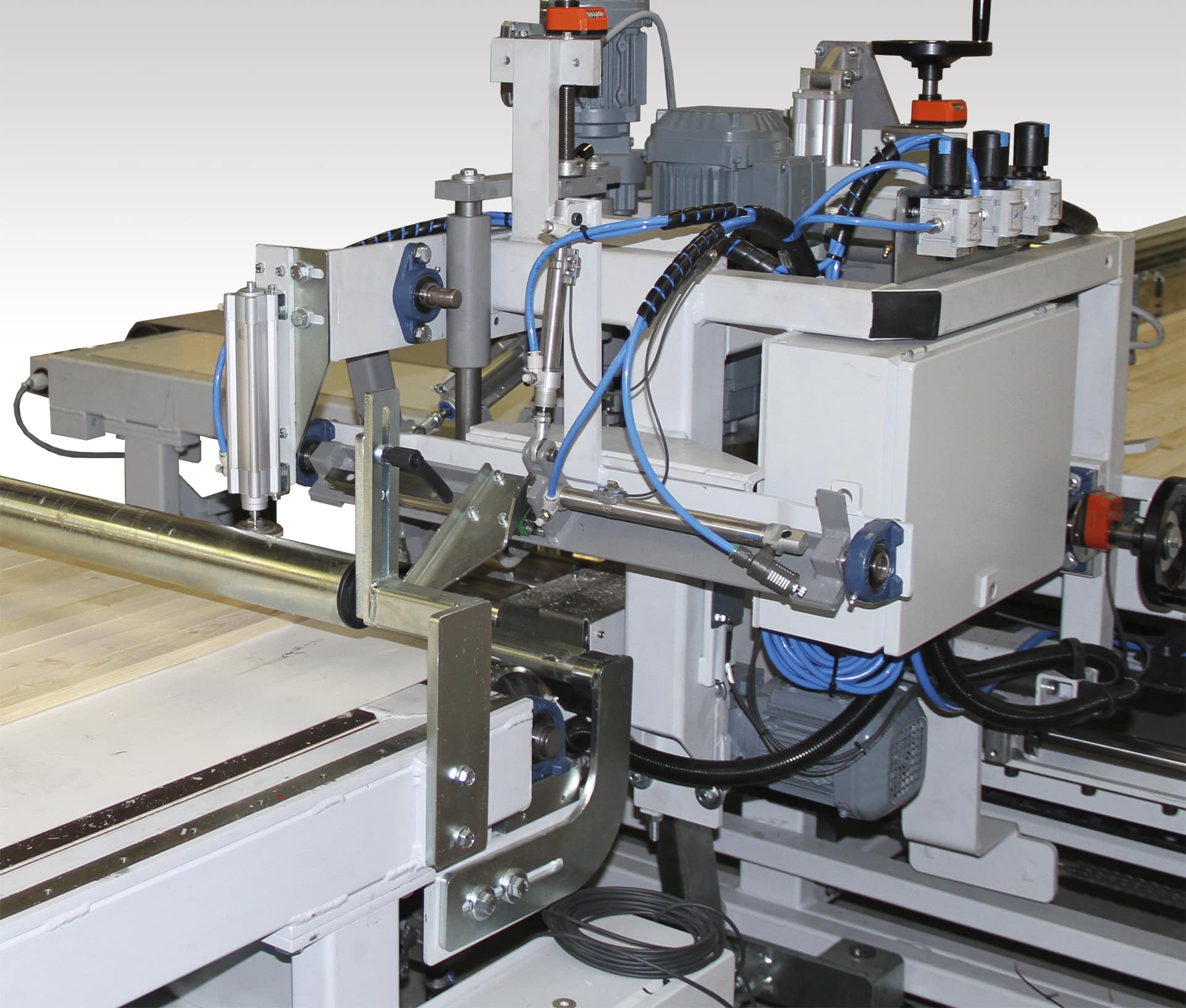 Glue application
Every piece of lamstock is pushed into the glue applicator. Here they are pulled past a vertical, grooved glue roller where the glue is applied on one side. The design of the glue roller and the glue pot ensures that an absolute minimum is wasted as well as making clean-up easier.
A photocell automatically controls the glue application.
A characteristic property of the glue equipment is that the lamstock are led directly from the glue applicator onto the feeding table in front of the press.
2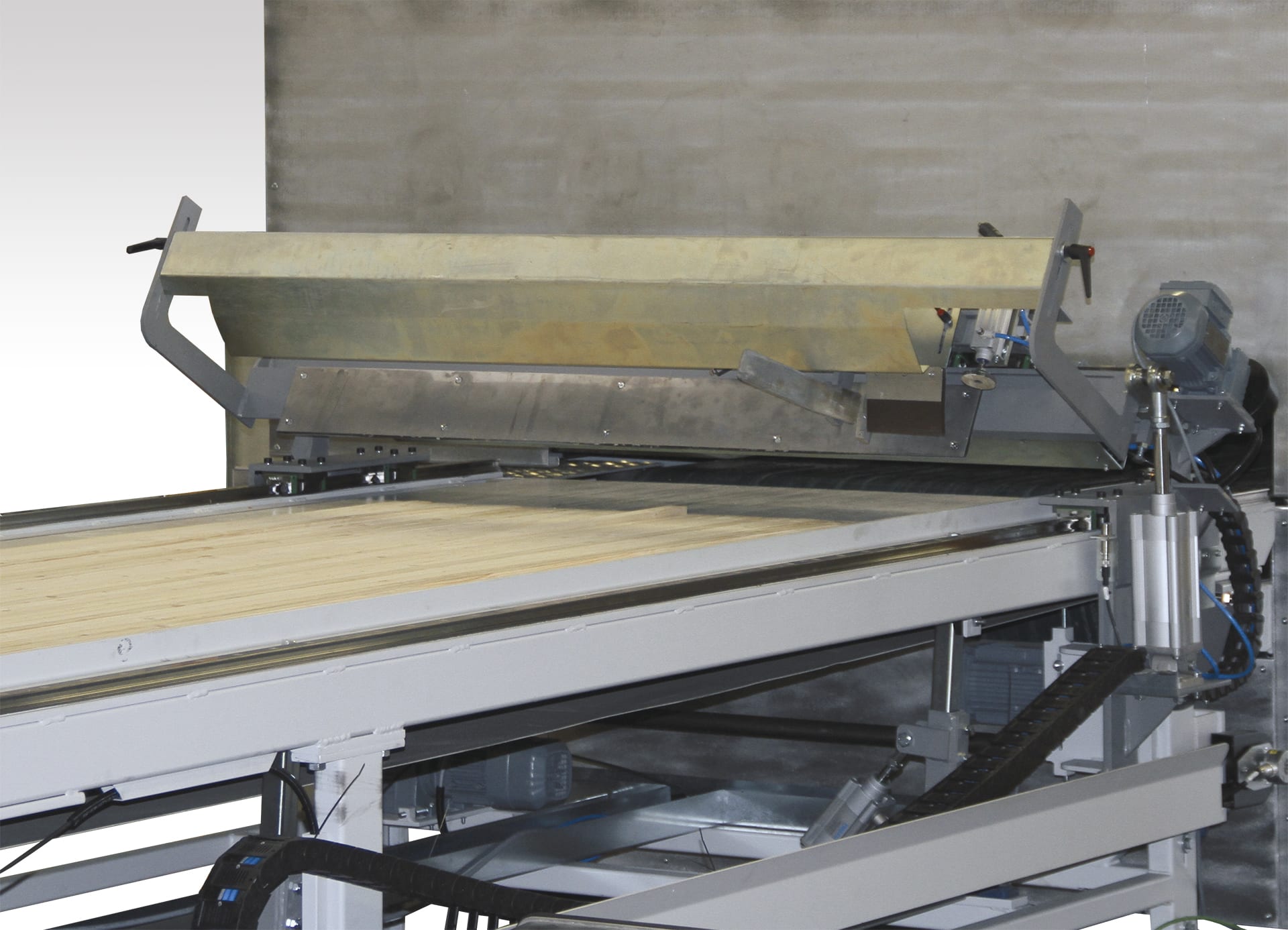 Lay-up table 
A movable retainer on the feeding table is set according to the length of the lamstock, and several straightening cylinders make sure the lamstock are straightened continuously and correctly. A rubber brake ensures that the wood does not rebound during the process.
When a glued piece of lamstock is led onto the feeding table (and is retained by the straightening cylinders), the glue application unit (the glue carriage) retreats by the width of a piece of lamstock, allowing a new piece to be pushed/pulled into the glue applicator. This way the glued lamstock will lay side by side on the feeding table.
3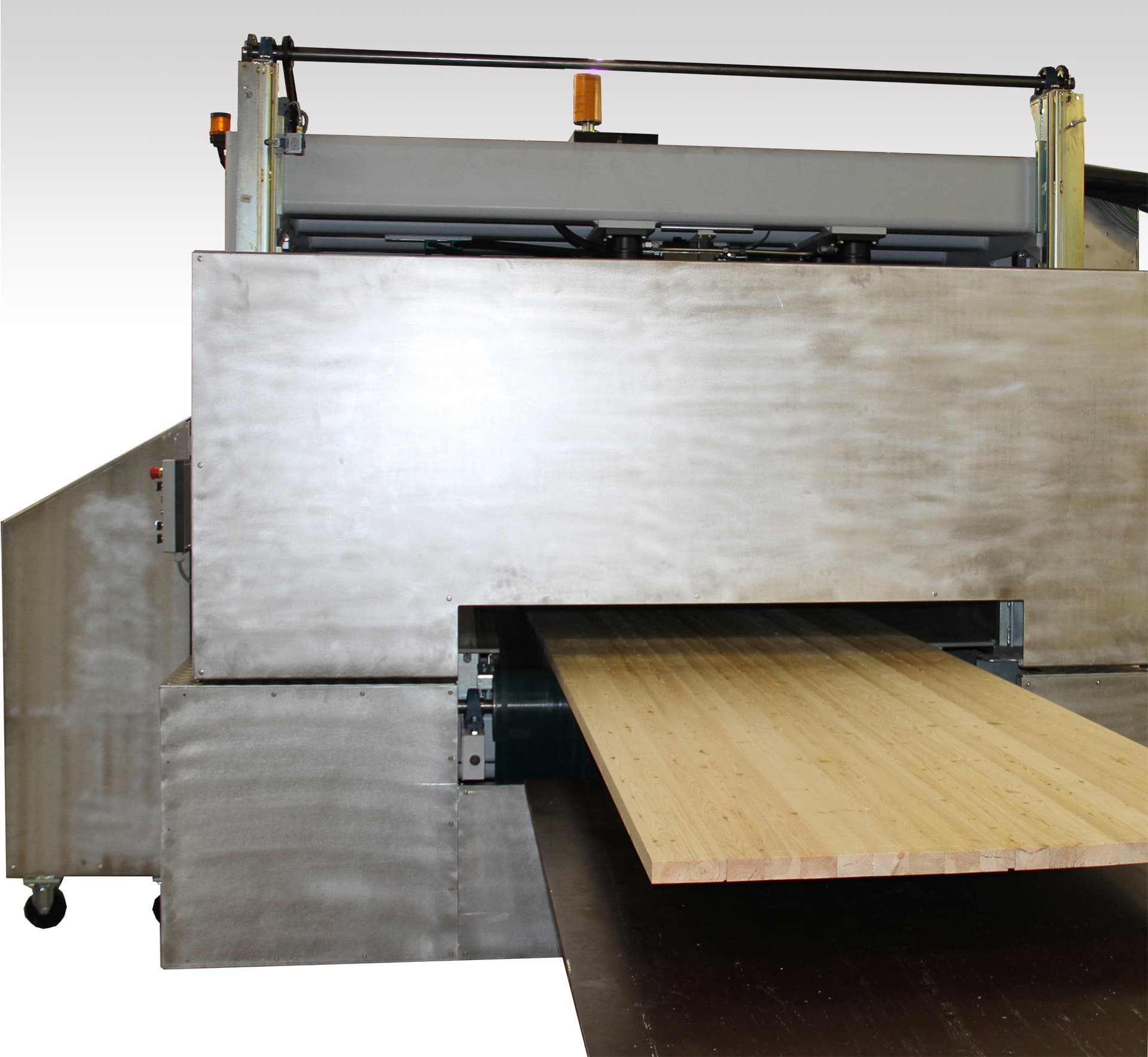 Radio frequency press
When a whole row of lamstock has been glued, they are straightened together. The retainer is lifted, and the feeding table runs forward by the length of the lamstock to make way for a new row of lamstock.
Once the feeding table is filled the whole lay-up of lamstock is led into the radio frequency press.
The press is equipped with a high performance and reliable radio frequency generator that ensures very short pressing times.
An option for the press is an automatic end straightening system at both ends of the press, ensuring that the lamstock are completely straight before the pressing starts.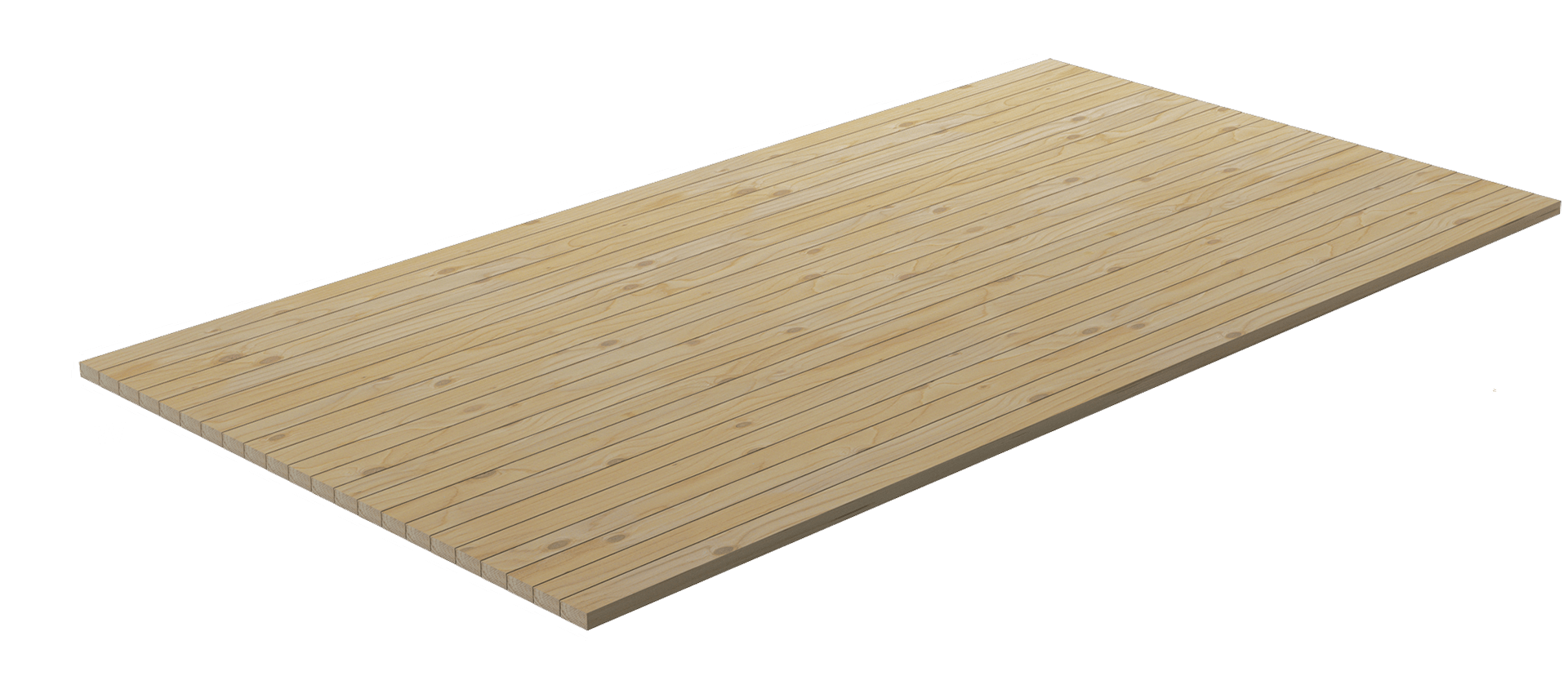 Specifications
Minimum and maximum length, width, and height of the products are listed below – but we can make a press line that specifically fits your products and production needs.
Length: 2,000 – 5,100 mm (6 ft 6 in – 16 ft 8 in)
Width: 750 – 1,320 mm (2 ft 5 in – 4 ft 4 in)
Height: 10 – 70 mm (0,4 – 2,7 in)
"Kallesoe took the necessary time and adapted the machines to our individual needs."
Russ Vaagen
CEO
Vaagen Timbers
"The technology was very impressive. We are convinced that it is much better than other technologies on the market. It is all about flexibility and  speed."
Silver Simenson
Production Manager
Palmako
"The line runs as it should – smoothly. The performance lives up to what was promised. We would buy the same machine all over again."
Dietmar Seelos
Technical Director
Pfeifer Holz GmbH
References in the solid wood board industry