LHF press line for glulam production
Kallesoe Machinery's radio frequency press for production of glulam beams is a particularly efficient production line capable of operating with very short pressing times, which allows for a very high output.
This production line offers the most effective and reliable radio frequency system on the market. It is ideal for production of glulam beams up to 27 meters. We design every line to fit your products and production needs.
Read more about the Vario press – the flexible version of the LHF press, optimized for order-based production.

1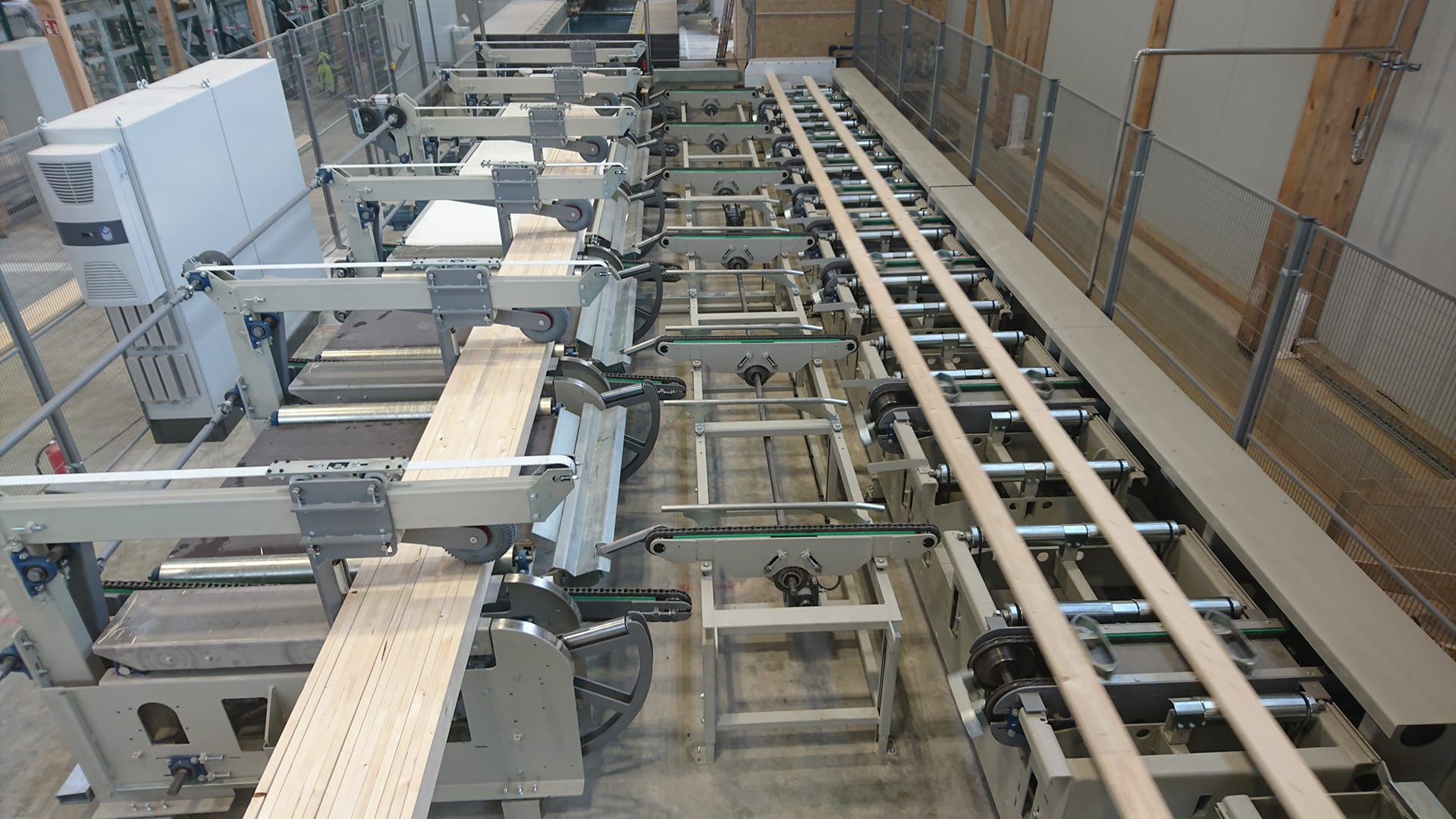 The line is fed by high-speed dual roller conveyor, allowing the lamstock to be conveyed to the lay-up system at a quick pace. The lamstock are cross conveyed in two steps, to prevent collision during transport.
Leaving the roller conveyors, the lamstock are cross conveyed to the lay-up device, either directly or onto intermediate chain conveyors.
After the cross conveying, the glued lamstock are raised on edge, straightened and joined together on a belt conveyor where they are efficiently held in place, while more lamstock are added.
When the batch is completed it is led to the inlet conveyor.
2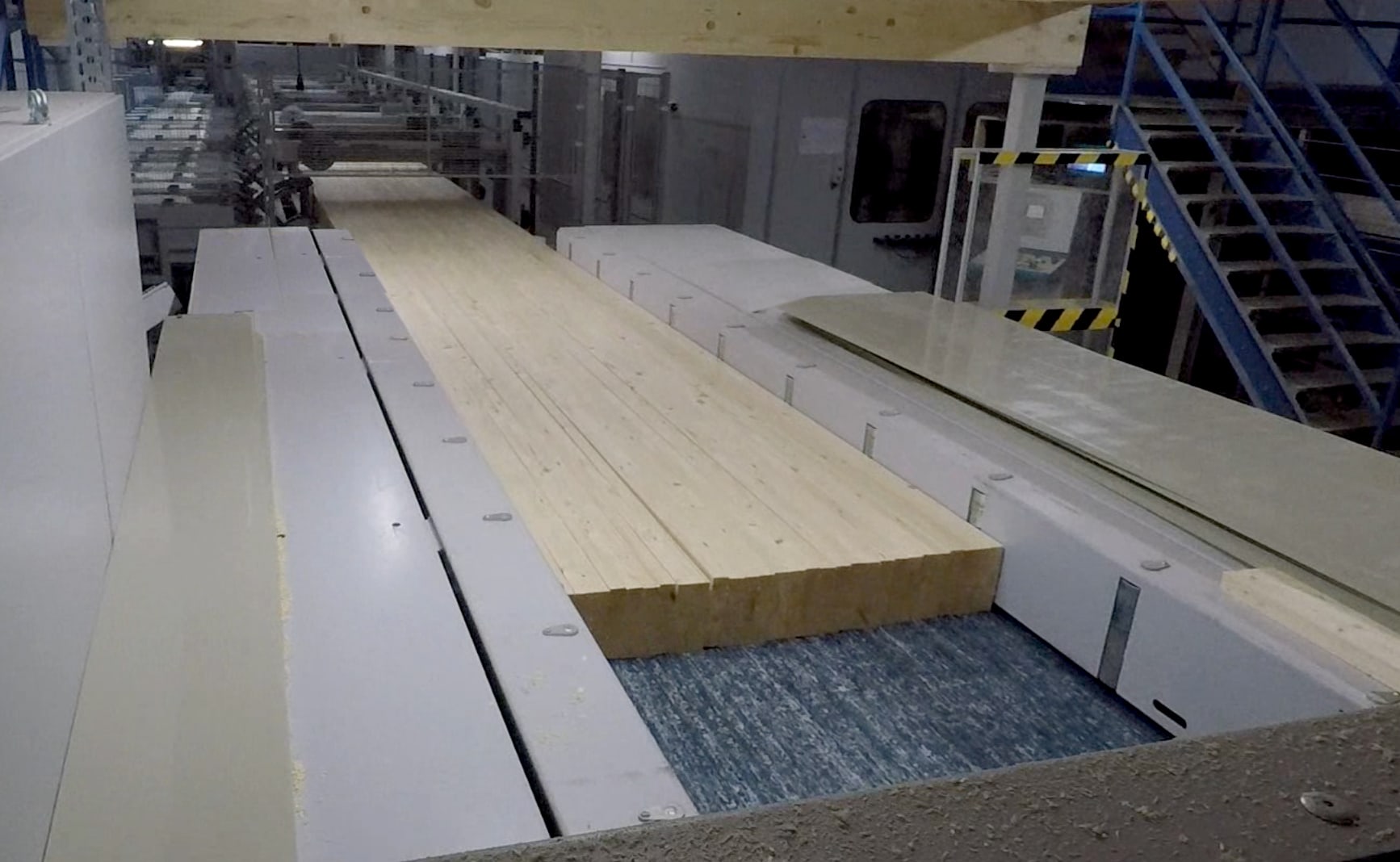 The inlet conveyor in front of the radio frequency press is equipped with side supports to prevent the lamstock (especially short pieces of lamstock) from overturning during transport into the press.
The complete press line is automatically controlled by a central control system in which all data from the glue application and pressing processes are collected and saved.
3
The radio frequency press is sturdy and strongly built, and the hydraulic system is powerfully dimensioned with a two-step pump station and a control, that ensures maximum output.
The press is equipped with a high-performance and reliable radio frequency generator, ensuring a rapid curing of the glue.
The system operates with a frequency of 13,56 MHz. The HF technology heats the water in the glue, which causes it to cure quickly.
Read more about the Vario press for a more flexible press solution.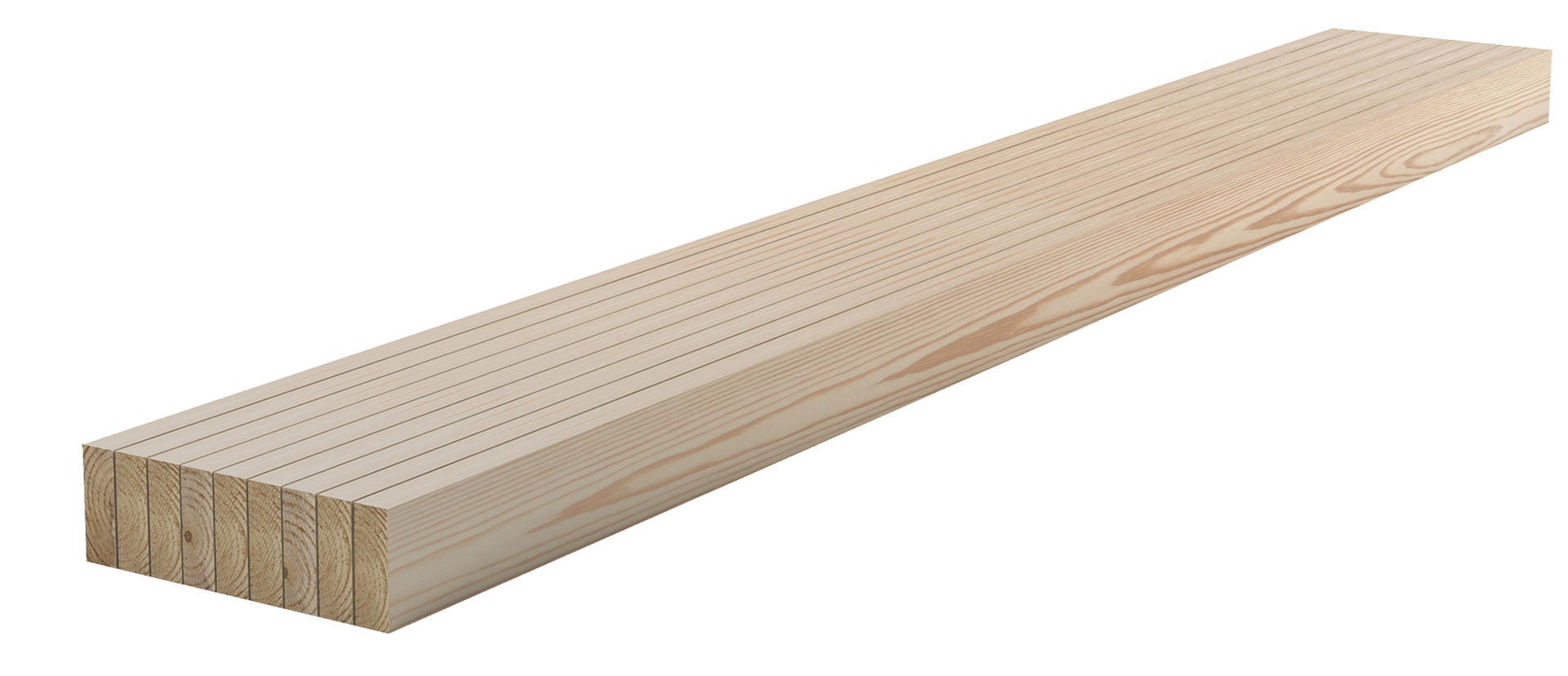 Specifications
The minimum and maximum length, width and height of the GLT beams are listed below – but we can make a press line that specifically fits your products and production needs.
Length: 3,000 – 27,000 mm (9 ft 10 in – 88 ft 6 in)
Width: 840 – 1,280 mm (2 ft 9 in – 4 ft 2 in)
Height: 60 – 290 mm (2.4 – 11 in)
"The line runs as it should – smoothly. The performance lives up to what was promised. We would buy the same machine all over again."
Dietmar Seelos
Technical Director
Pfeifer Holz GmbH
"The Danes were really well prepared, and when it comes to machinery they are one of our most competent partners."
"Once again it was a successful collaboration with Kallesoe – everything went according to plan"
Reinhold Holzer
Production Manager
Hasslacher Norica Timber
"Kallesoe were the only plant suppliers who kept what they had promised. Set up, turn on, produce"
Christoph Ladenburger
Technical Manager
Ladenburger GmbH
References in the glulam industry