Multiply LV press line for multi-layer panels
This hot press solution can make single-layer, cross laminated 3-layer, or multi-layer solid wood panels up to 60 mm. These panels can be used as interior wood cladding, in furniture production, or in construction.
The production line is characterized by its high speed and by its full-automatic glue-application and press cycle, that makes excellent use of human resources.
The line contains an infeed system for longitudinal and transverse lamstock, a lay-up system with a vacuum gantry, a double glue system, and a hot oil press.
If wanted, the line can be expanded with a panel turner and an automatic stacking system.
The line can reach an even higher capacity by replacing the hot oil press with a radio frequency press.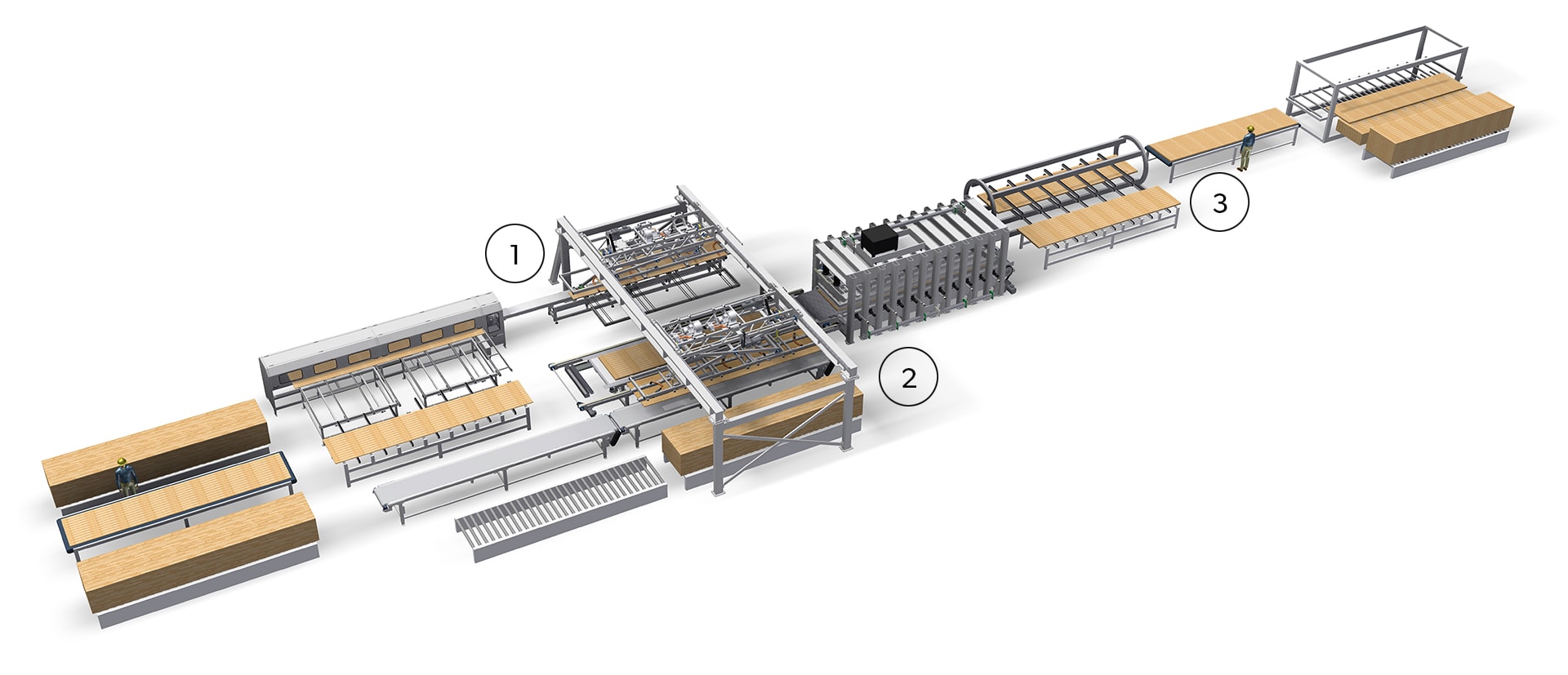 1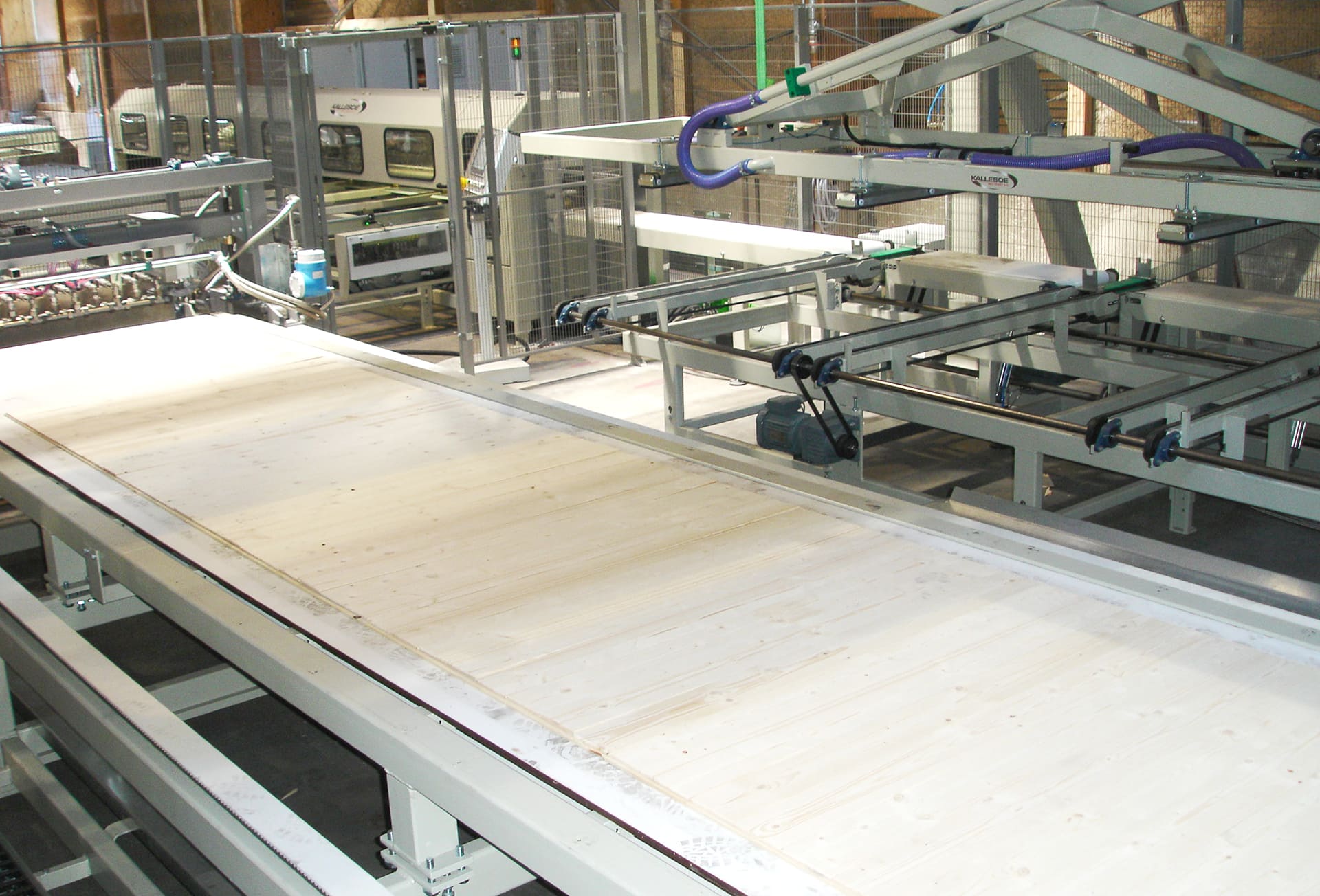 The lay-up of the longitudinal and the transverse lamstock in this production line can happen manually or automatically.
After the lay-up an automatic process makes sure, that the correct number of lamstock are placed and glued before they enter the press. The longitudinal lamstock are edge-glued before they are lifted by a vacuum gantry and placed on the inlet table in front of the press. Here a face gluing system makes sure that glue is added between each lamstock layer.
2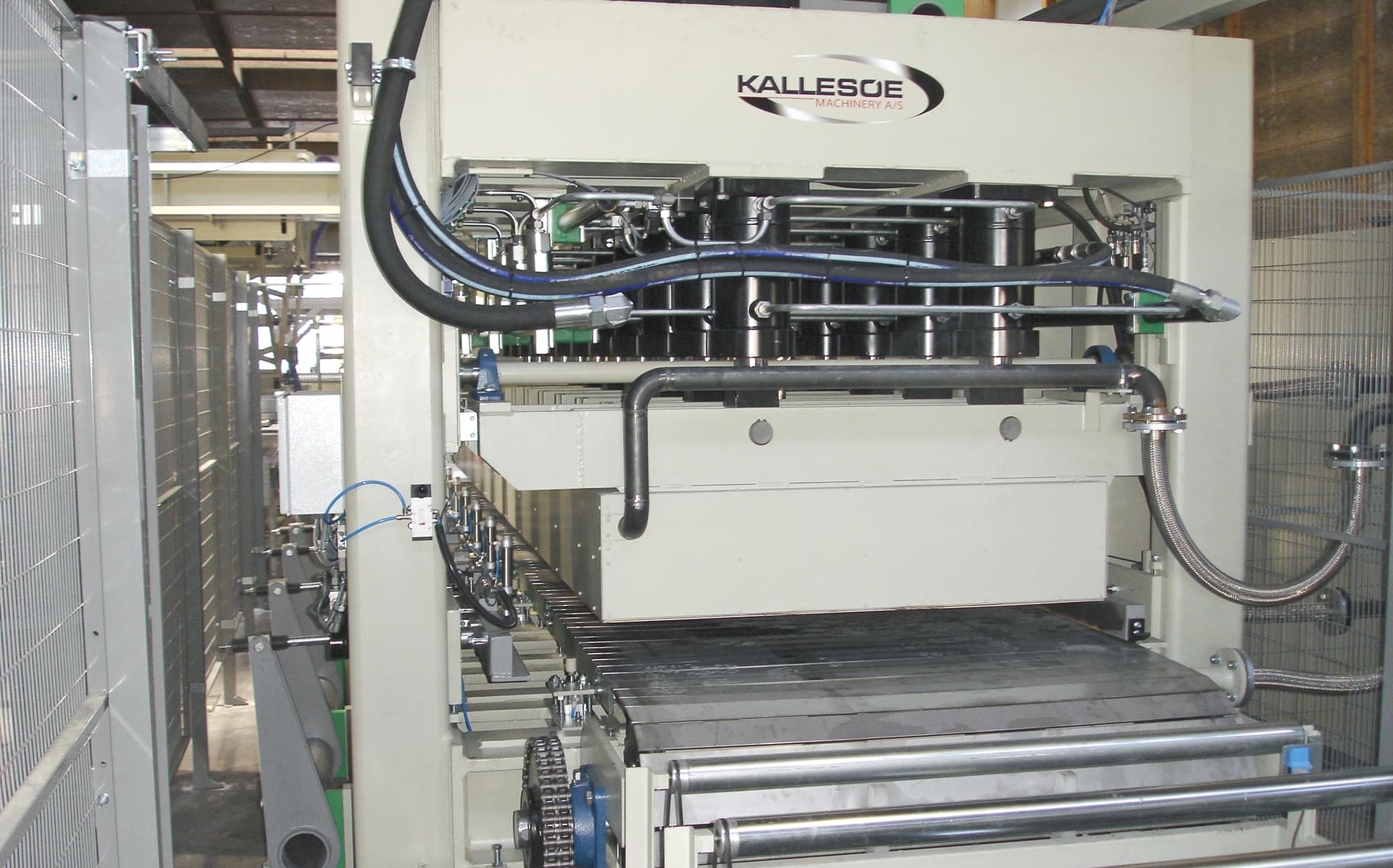 When using a hot oil press, a working temperature of 150° C is reached which speeds up the curing of the panel.
The heat is supplied from an external hot oil system that is connected to the press through a separate heating device with heat exchangers and circulation pumps. The oil circulates through a maze shaped system in the press plates, ensuring a uniform heat distribution in the plates.
In the press, a steel belt transports the wood forward. The steel belt is very resistant to the high temperatures and is ideal for all types of adhesives.
Pressing time depends on the type of adhesive, the thickness of the panels, and the number of layers in the panels.
3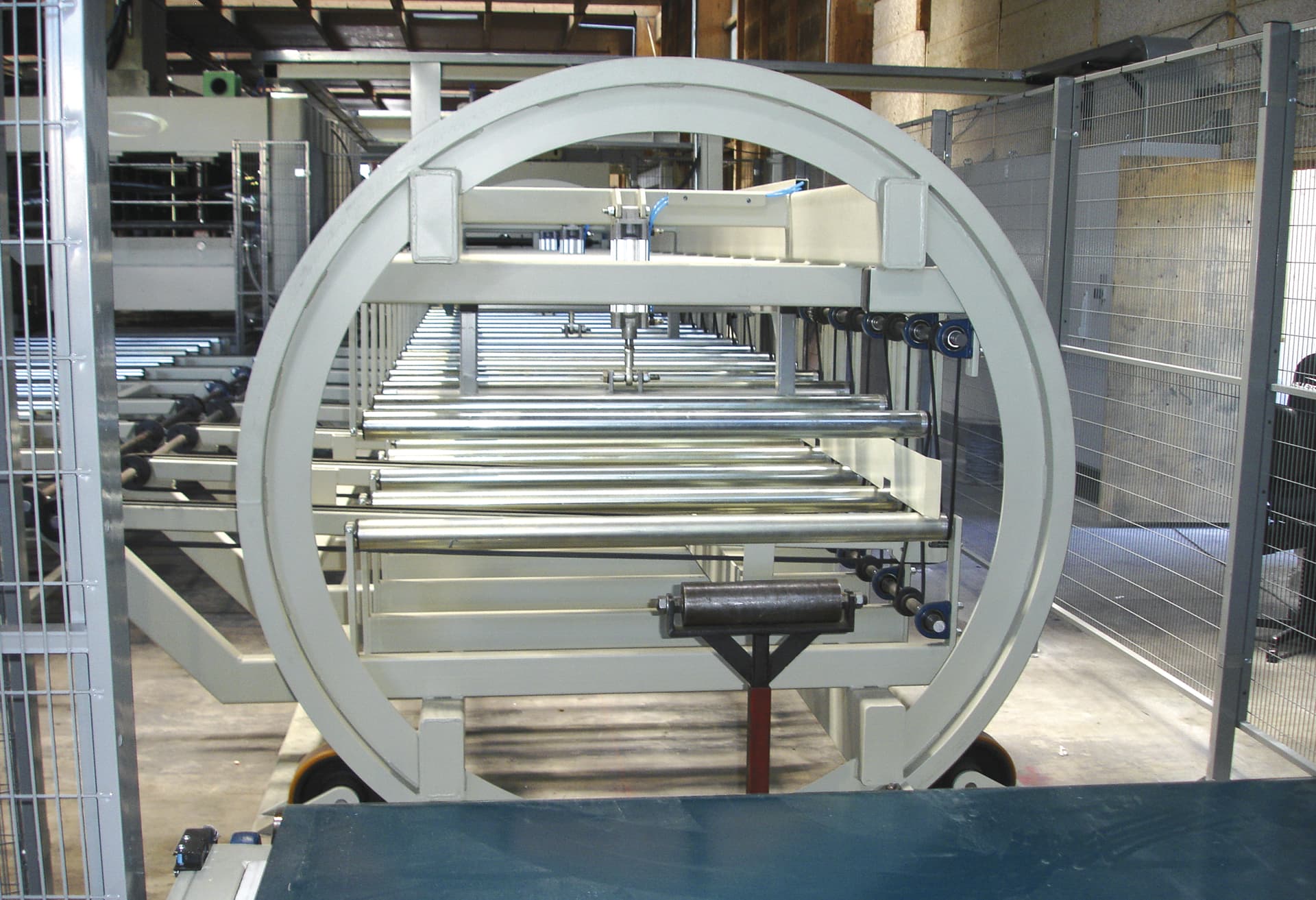 When the panels have cured in the press, they are led on to an optimization station that turns the panels so that any repair work can easily and smoothly be made.
The panels are automatically led to the board stacker that by means of steel arms lifts the wood and stacks it onto a pallet. The wood is aligned before being stacked.

Specifications
The minimum and maximum lenght, width and height of the panels are listed below – but we can make a press line that specifically fits your products and production needs.
Length: 2,000 – 6,000 mm (6 ft 6 in – 19 ft 8 in)
Width: 1,100 – 1,280 mm (3 ft 7 in – 4 ft 2 in)
Heigth: 10 – 60 mm (0,3 – 2,3 in)
"Kallesoe took the necessary time and adapted the machines to our individual needs."
Russ Vaagen
CEO
Vaagen Timbers
"Kallesoe were the only plant suppliers who kept what they had promised. Set up, turn on, produce"
Christoph Ladenburger
Technical Manager
Ladenburger GmbH
"We have been in this business for 82 years. Kallesoe is by far the best and most professional supplier we have ever done business with. They are so easy to work with, and they know their products and business area. It has been a pleasure. It is important to go the extra mile to make sure that the customer is satisfied – and they do that at Kallesoe."
Chris Kalesnikoff
COO
Kalesnikoff
References in the multi-layer panel industry