Q press for a quick board production
The Q press is an extremely quick radio frequency press for solid wood board production. When the board leaves the press, it is hardened and ready for further processing.
Due to the very short pressing time and a very efficient usage of the RF energy, the capacity is very high and the possibilities for optimization are enormous.
The Q press line consists of a glue and lay-up system, a press, and a saw. We can adjust the press line, so it exactly fits your products and production needs.
Read more about the radio frequency tachnology and the advantages of using radio frequency here.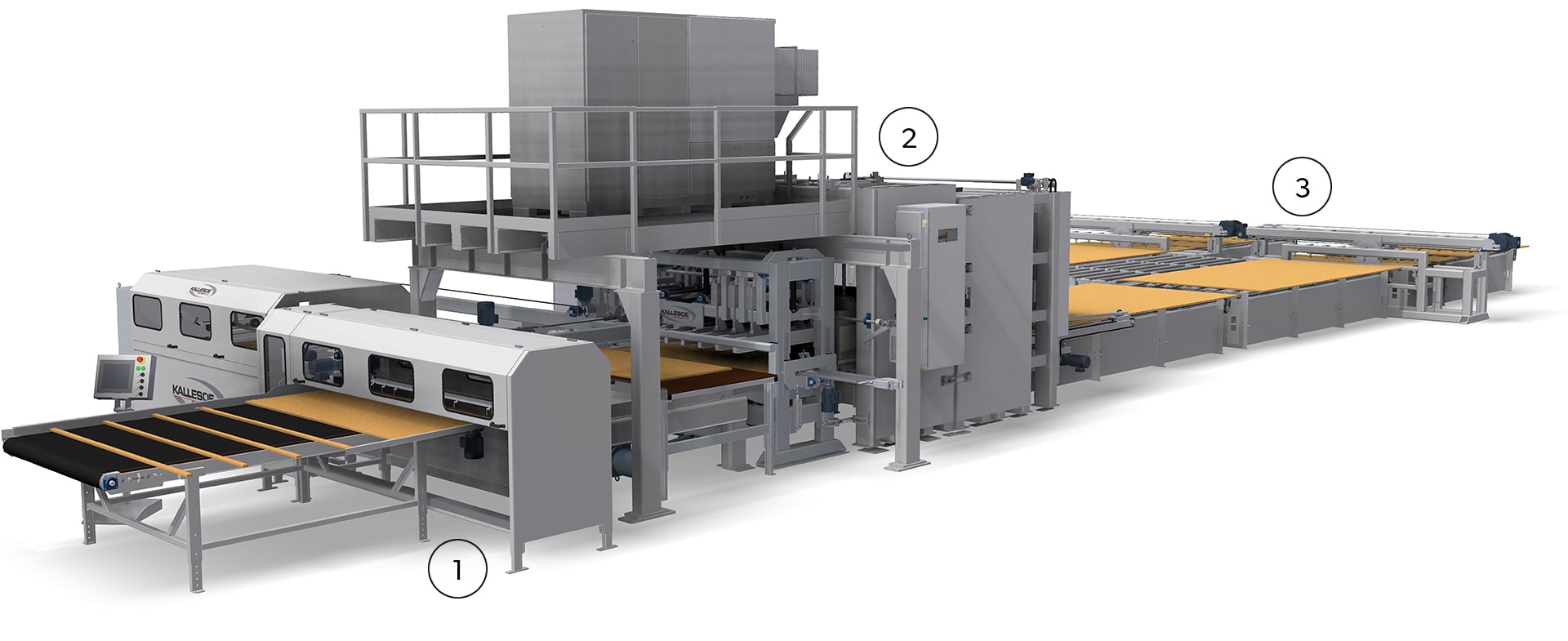 1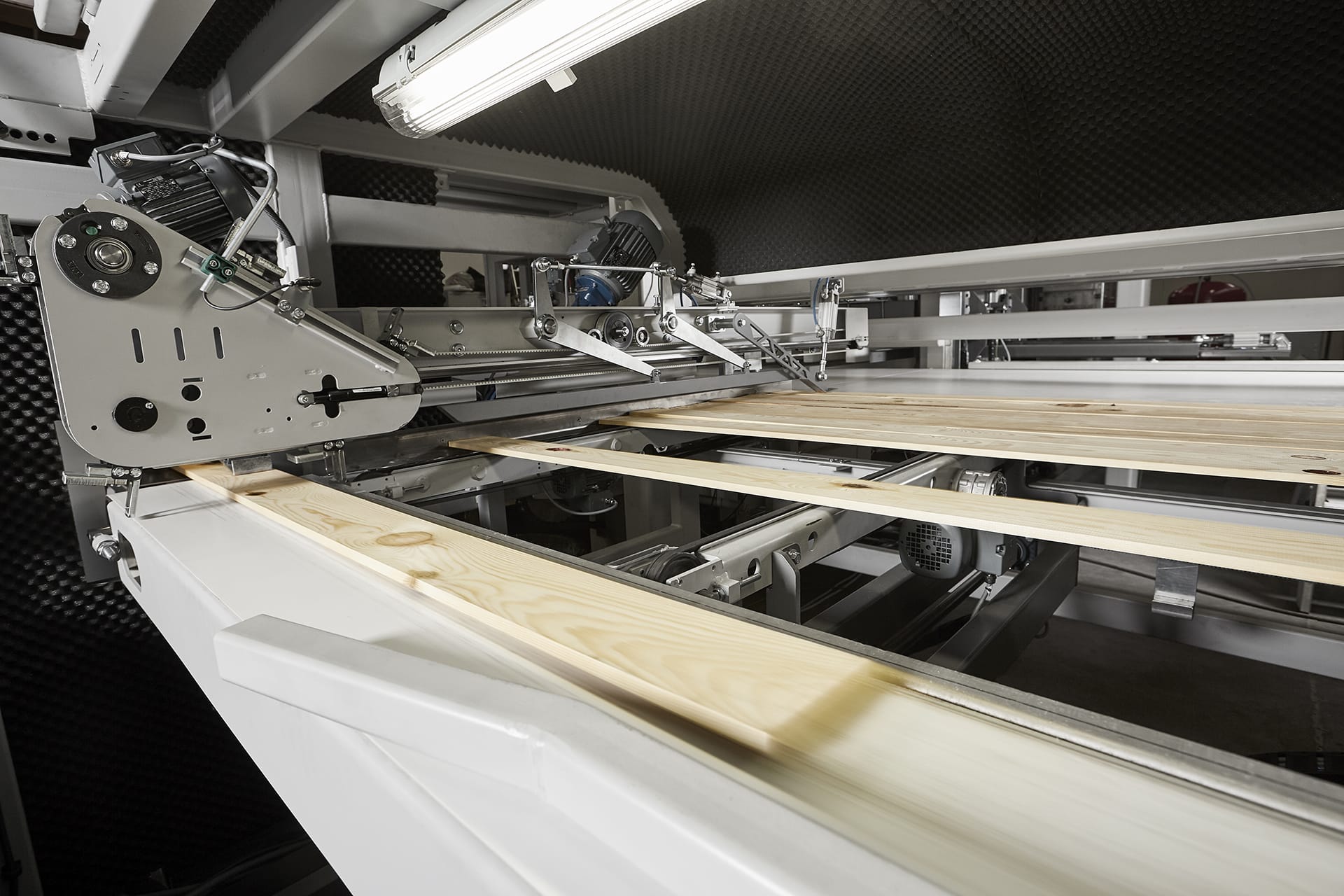 The lamellas pass through the glue applicator one by one. The glue is applied either on top of the lamella by means of a glue nozzle or on the side of the lamella by means of a glue roller, depending on the chosen solution – which again depends on the lamella dimension and your production needs.
Leaving the glue applicator, the lamellas are cross conveyed into a magazine in which they are gathered in a charge.
When the magazine is full, the lamellas are led to a feeding table in front of the press.
2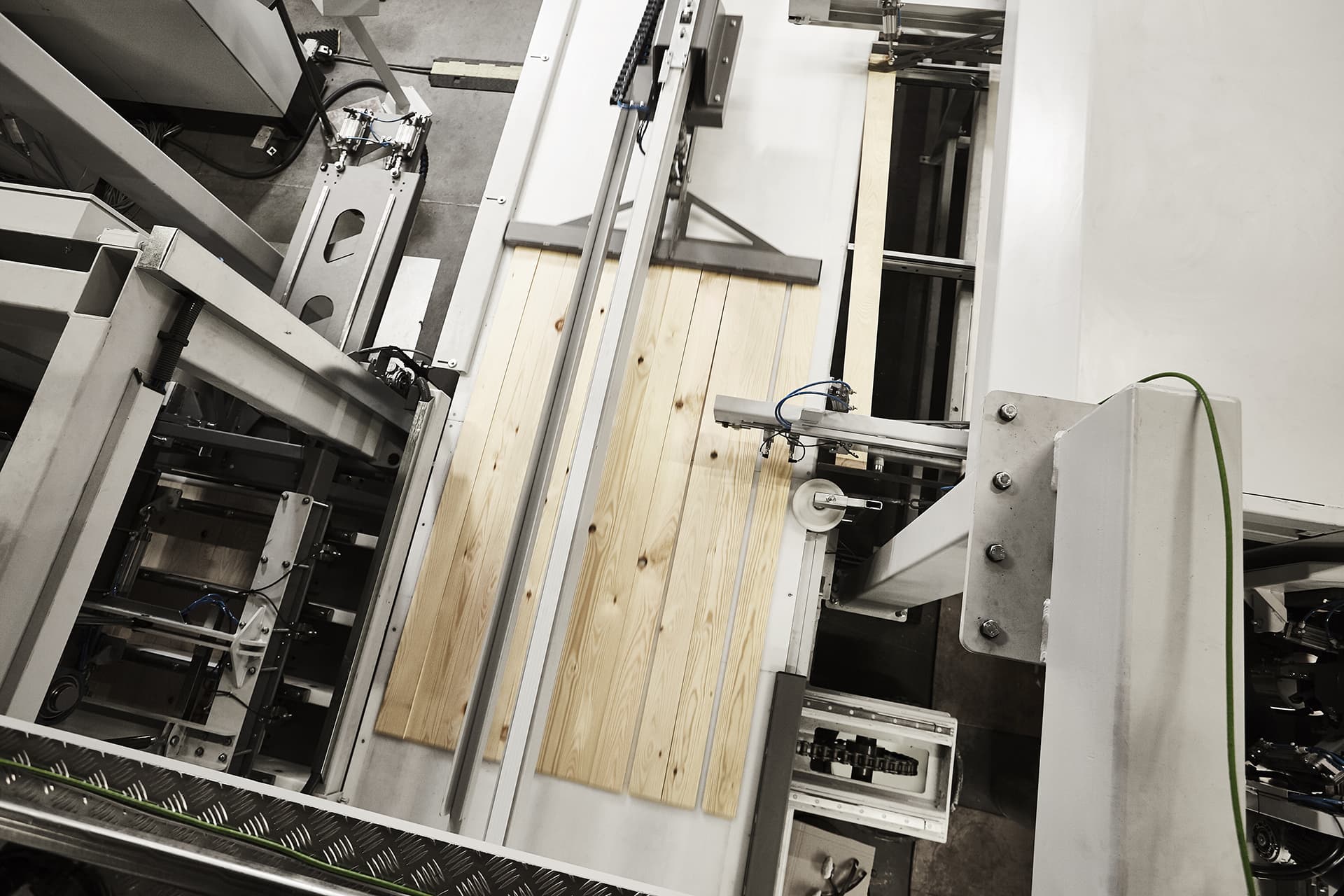 The glued lamellas are fed into the fully automatic press which consists of two parts: a radio frequency unit and a hot press unit.
The pressure plate of the hot press lowers to act as a backstop for the RF unit. Simultaneously the RF unit starts processing.
When the pressing cycle is completed the lamellas move a step forward ready for the next pressing.
This process allows for a production of endless boards which subsequently can be cut into desired dimensions.
3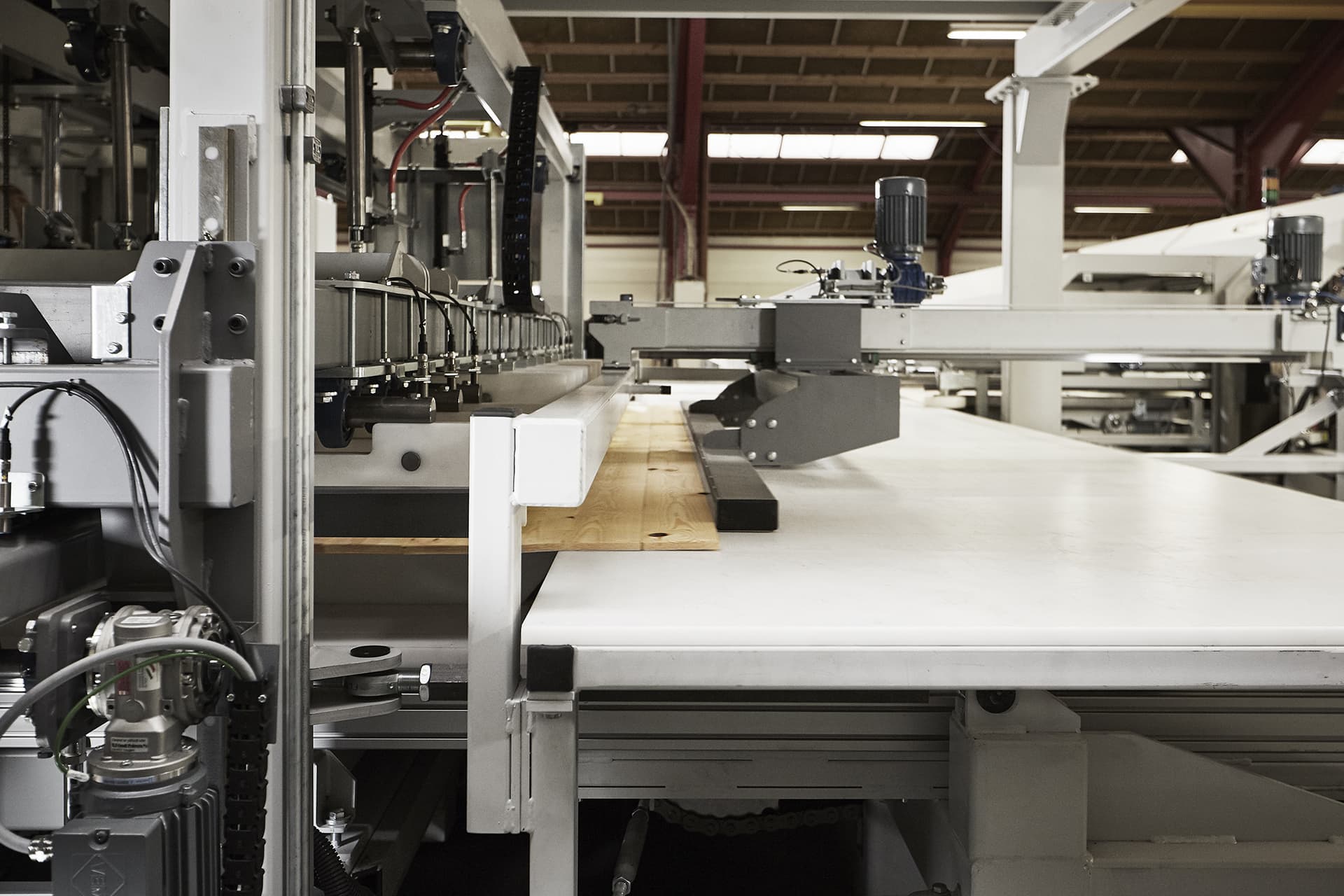 The RF energy targets the liquid in the glue which quickly heats up from the middle and cures.
The hot press cures any surface glue on the board.
This process offers a fully cured board and allows for immediate further processing.
Behind the press, saws can be installed enabling the cutting of the endless board into smaller units – both in longitudinal and transverse directions.
The saws cut the boards to the required dimensions and can furthermore be used for trimming ends and sides – ready for further handling.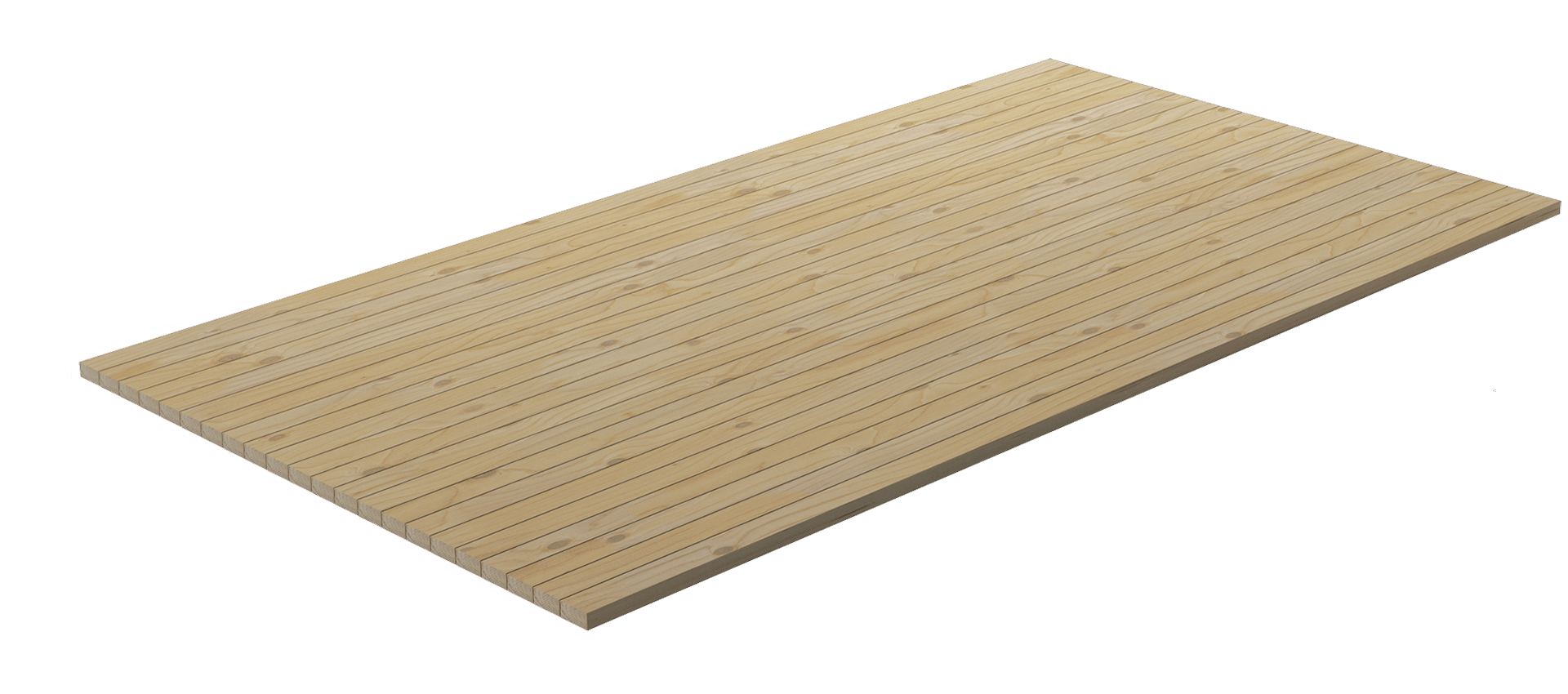 Specifications
The minimum and maximum length, width, and height are listed below – but we can make a press line that specifically fits your products and production needs.
The width depends on the subsequent handling equipment.
Width: 400 – 6,000 mm (1 ft 3 in – 19 ft 8 in)
Length: 60 – ∞ mm (2,4 in – ∞)
Height: 10 – 45 mm (0,4 – 1,8 in)
"We have been in this business for 82 years. Kallesoe is by far the best and most professional supplier we have ever done business with. They are so easy to work with, and they know their products and business area. It has been a pleasure. It is important to go the extra mile to make sure that the customer is satisfied – and they do that at Kallesoe."
Chris Kalesnikoff
COO
Kalesnikoff
"The Danes were really well prepared, and when it comes to machinery they are one of our most competent partners."
"Kallesoe were the only plant suppliers who kept what they had promised. Set up, turn on, produce"
Christoph Ladenburger
Technical Manager
Ladenburger GmbH
References in the solid wood board industry